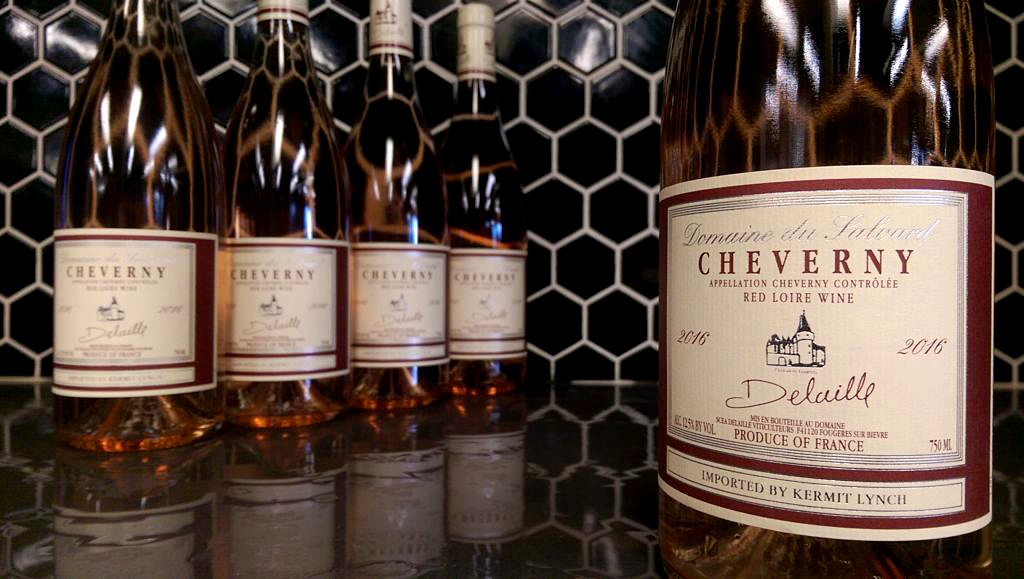 30 Days of Rosé | #11 | Emmanuel & Thierry Delaille | Cheverny Rosé | Vin de Pays du Val de Loire | 2016 | $14.99
Ah wine from Cheverny… white, red, or rosé, is a rising star in our French wine section.  We're mesmerized not just by the superb balance and sensory experience of these wines, but also because we've personally met with the makers who carefully harvest the grapes, make the wine, and ship it over to us in this small community.  We are most delighted to not just support our friends who responsibly craft these craveable wines, but to share their labor of liquid love with you. 
From kermitlynch.com/our-wines/domaine-du-salvard:
Domaine du Salvard
Domaine du Salvard has been a working domaine since 1898, through five hardworking generations of the Delaille family. Today, all forty-two hectares of vineyards are farmed by the capable brother team of Emmanuel and Thierry Delaille, with help from their father Gilbert. To our delight, they have carried on the traditions established by their ancestors, producing a true, classic Cheverny that is both simple and elegant. The Delaille brothers have focused their attention on growing fresh, lively Sauvignon Blanc, deeply rooted in the sand, clay, and limestone plains of northeastern Touraine. Pinot Noir, Gamay, and Cot constitute their red grape holdings, creating youthful reds with great aromatics. Gilbert and his sons have also made their own contributions to the heritage of the domaine, including the introduction of sustainable farming practices into the vineyards, as well as temperature-controlled vinification equipment to the winery.
Until finally achieving A.O.C. status in 1993, Cheverny was widely regarded as one of the best V.D.Q.S. (Vin de Qualité Superieur) of the Loire. However, some argue that this A.O.C.-in-waiting designation was a political maneuver by the I.N.A.O. to keep Cheverny's delicious, sprightly Sauvignon Blanc out of competition with the other more famous appellations of Sancerre and Pouilly-Fumé. Kermit was the first to discover the charm and value of Cheverny back in 1978 when he imported the Domaine Jean Gueritte. He took on the Cheverny of Domaine du Salvard in 1992, a year before the status change in the appellation. We continue to tout the domaine's wine as one of the greatest values for Sauvignon Blanc perfection.
VITICULTURE / VINIFICATION
All wines are vinified in temperature-controlled stainless steel cuves
All wines age on fine lees in stainless steel tanks and are bottled unfiltered
Rosé is 50% free-run juice, 50% pressed
65% Pinot Noir / 35% Gamay
The proliferation of synthetic fertilizers, pesticides, herbicides, and fungicides in the 1950s has made France the single largest consumer of phyto-chemicals in Europe today. The subsequent degradation of the soil has ensued, killing off the necessary microbiotic life forms that support healthy soils. Lutte raisonnée, literally "reasoned fight" (in French), or "supervised control" (in English), is a reaction to the use of such chemicals, regarded as a pragmatic approach to farming, where chemical treatments are used only when absolutely necessary. Biodiversity in the vineyards is encouraged through the planting of cover crops, rigorous plowing of the soils, and the use of manures and natural composts to fertilize the vines. Some growers use this as a first step towards full organic farming. Others find it a happy medium between conventional methods and the stricter demands dictated by organic certifying agencies. There is a wide berth of interpretation concerning these methods. Some farmers work through certifying agencies such as Terra Vitis, following a specific set of specifications and requirements. Others farm independently, following organic methodologies, and reserving treatments only when conditions are optimal (for example, when there is no wind). Zoologists have introduced more environmentally-friendly concepts such as integrated pest management, or hormone confusion, which prevents the reproduction of certain pests that may threaten the vines. The reduction of sprays not only contributes to the health of the vines and the greater ecosystem, but also to the health of the winegrowers (who account for the largest percentage of cancer cases among farmers).
If you revel in Chinon Rosé like us, we encourage you to explore Chinon, the first installment in our 30 Days of Rosé!
30 Days of Rosé | #01 | Kermit Lynch | Chinon Rosé | Charles Joguet