One of the jobs we have is to sift through 1000's of wines available to us and
bring in wines that have a 'wow' factor.
We nailed it with the Clos de la Procure from Dupéré Barrera – it is one of the best wines in our store under $40!
Out of the 200+ wines we tried at a wine show, this was our favorite and we are delighted to share it with you.
The dark fruits and spice of Clos de la Procure pairs well with seared duck, steak frites, or even just a kick-ass burger – the clean long finish means you can simply enjoy it by itself.
Clos de la Procure 2011 was a

one time shot

for us
s

o even though we stocked up,

once it's gone, it is gone. 

Grab a bottle and if you like it, squirrel a couple away for your

next dinner party and wow your guests!
Show sale price: $23.99

($28.99reg)

 
From kermitlynch.com:
Côtes de Provence Rouge Clos de la Procure –
30% Grenache, 30 % Mourvèdre, 20% Syrah, 10% Carignan, 10 % Cinsault
Organic farming
All grapes are harvested by hand and 100% de-stemmed
Grapes are crushed by foot
Fermentation is natural and no additives are used
No pumps are used to transfer the wine
Wine is vinified in small, open cuves, sizes 300-L to 1500-L
Punch downs are done daily for the first 15 days of fermentation
The wine is aged in French oak barrels from Château d'Yquem, Beauséjour Bécot, and Domaine de la Romanée Conti
Dupéré Barrera –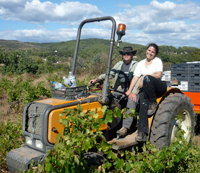 Unlike so many of our producers who were born into the trade, Emmanuelle Dupéré and Laurent Barrera did not start their careers in wine.  Emmanuelle was, and still is, a professional singer, and Laurent a geological engineer on the island of Réunion, near Madagascar.  In 1998, Laurent decided to change direction and enrolled in viticultural school in the Var.  Emmanuelle already had a degree in Wine Commerce, but went back to school to learn the production side of the business. Their studies brought them together with great winemakers from various regions of France, and as they learned from these experienced producers, they gained a deep respect for the unadulterated expression of the fruit so prevalent in naturally-made wines.
There is nothing average about this husband-and-wife team of enologists:  they consider every detail with both brainy enthusiasm and heart.  These eco-conscious artisans could never be accused of not walking their talk, either. They adhere to organic methods in the vineyards and are now also incorporating biodynamic practices, adding even stricter discipline to their intense workload. Their winemaking process allows the natural character of the wine to speak for itself, with minute doses of sulfur, no fining or filtration, and bottling during optimal weather conditions when the atmospheric pressure is just right. With one cuvée of Côtes de Provence, they take it to the next level: everything is done by hand with absolutely no machinery – earning the name Nowat (no watt=no electricity). Consider their "Cuvée Très Longue Macération" for some très long aging, too.  The Dupéré Barrera team captures the essence of their region beautifully: rich, sun-kissed fruit, savory herbes de Provence, and long, lingering finishes.  Travel to sunny Provence with the pop of a cork.