Awesome beers rolling in this week, get them while you can!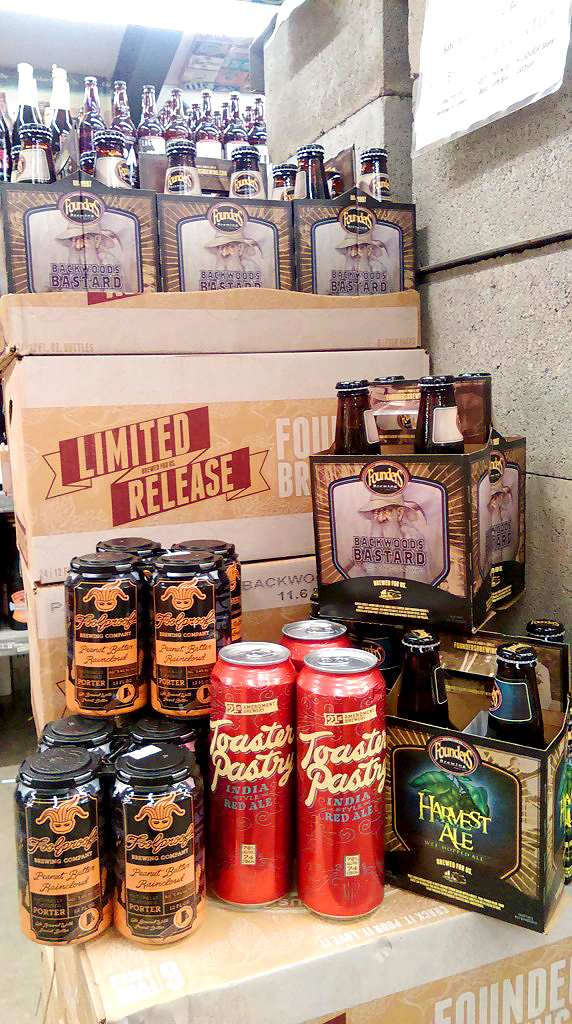 Peanut Butter Raincloud – Foolproof Brewing Company | American Porter | 5.40% ABV 
From http://www.foolproofbrewing.com/beers
     Sometimes the rain can drive you nuts, so you might as well have some in your beer. With that, we are proud to introduce Peanut Butter Raincloud, a unique and flavorful adaptation of our popular Raincloud robust porter. Raise a glass to the miracle that is peanut butter porter.
Toaster Pastry – 21st Amendment Brewery | American Amber / Red Ale | 7.60% ABV 
From http://21st-amendment.com/beers/toaster-pastry/
     Our first beer out of our new brewery is an homage to its former life as a toaster pastry factory.
     Biscuit malts give the beer a slightly nutty, crust-like flavor, while pale and dark Crystal malts create the mouthfeel and flavors reminiscent of strawberry jam. Calypso and other experimental hops give this ruby ale a welcome bite, plus a few more in the hop back for a toasty-sweet aroma.
Alcohol Content:   7.6
Color Deep:   Amber
Bitterness Units (IBUS):   74
Bittering Hops:   Warrior
Flavor Hops:   Centennial, Ahtanum, Amarillo, Mosaic
Yeast:   American Ale
Malts:   Two Row, Baird 70-80 Dark Crystal, Weyermann Munich 2, Weyermann Carafa III, Castle Biscuit
* Toaster Pastry won a Silver medal in the Double Red Ale Category at the 2015 Great American Beer Festival
Founders Backwoods Bastard – Founders Brewing Company | Scotch Ale / Wee Heavy | 11.60% ABV 
Rolled in cheaper than last year to us so we're passing the savings on to you, cheers!
From http://foundersbrewing.com/our-beer/backwoods-bastard/
     Expect lovely, warm smells of single malt scotch, oaky bourbon barrels, smoke, sweet caramel and roasted malts, a bit of earthy spice and a scintilla of dark fruit. It's a kick-back sipper made to excite the palate.
Founders Harvest Ale – Founders Brewing Company | American IPA | 7.60% ABV 
From http://foundersbrewing.com/our-beer/harvest-ale/
     This liquid dream pours a hazy golden straw color with a white, two-finger head. Your first sip rewards you with a super juicy hop presence bursting with fresh citrus, then finishes to introduce toasted malt undertones.