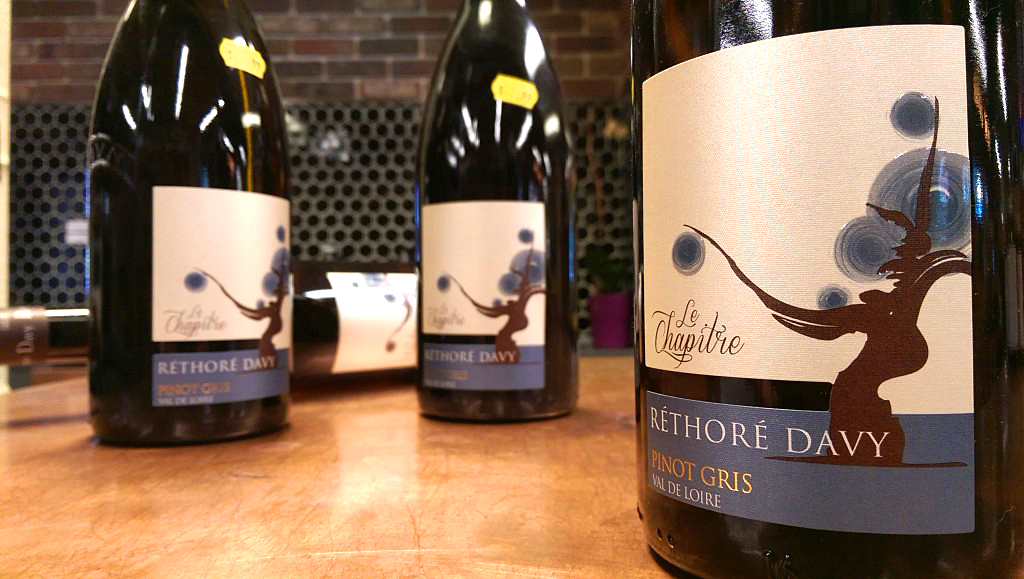 Domaine Rethore Davy Pinot Gris – Le Chapitre 2015
Pinot Gris is an excellent wine varietal that enjoys a steady increase in popularity as more people are introduced to what this versatile grape can do.  Referred to in Italy as Pinot Grigio, and domestically labeled as such by some of the larger international wine companies regardless of origin, Pinot Gris has been winning over palates with it's versatility and affordability.  From bright, young, and refreshing to sweet and viscous dessert wine, an array of wine styles can be made from Pinot Gris.
Our most popular French Pinot Gris right now is the 2015 le Chapitre from Rethore Davy(Loire Valley).  at only $12.99 a bottle, this Pinot Gris is an outstanding value, we encourage you to try it the next time you reach for a Pinot Grigio, but want something different but slightly familiar!
Tasting / Paring Notes:  Crisp, bright, and lively but not overly acidic.  Light lemon and hint of pink grapefruit flesh flavors.  More mid-palate roundess on this French Pinot Gris than probably most Italian Pinot Grigio you've had.  Clean finish that is just long enough – doesn't instantly dissipate but doesn't linger. Pairs well with grilled lemon chicken / swordfish, light pasta dishes, steamed mussels… awesome with ceviche and grilled octopus!
– Jason
Industry Info:
Producer:  Domaine Rethore
Country:  France
Region:  Loire
Varietal:   Pinot Gris
Vintage:  2015
$12.99
Domaine Rethore Davy –
This is a family story, that of two brothers Martine and Christopher RETHORE, and their cousin Jean-Michel DAVY , united by a passion for wine, they decided to join forces to put their superb terroir and their "know-how" in the production of wine. Planted in 2004 on only 3.5 acres in the growing region of St-Remy en Mauge.
2014 Le Chapitre Pinot Gris – 100% Pinot Gris – this small production is all hand harvested and sustainable with no malolactic fermentation, fine and filtered for clarity. 6 months bottle aging. Crisp, fresh and mouthwatering. Gently spiced flavors of ripe pear, white peach and lychee with a touch of lemon and ginger. Pleasantly intense aromas and nicely balanced with floral overtones and a generous lingering freshness. 3500 cases