**As of January 2021, we have discontinued our growler fill service at the Bevie. You may still redeem any Beverage Warehouse growlers that you still have for their $4 deposit. Thank you!**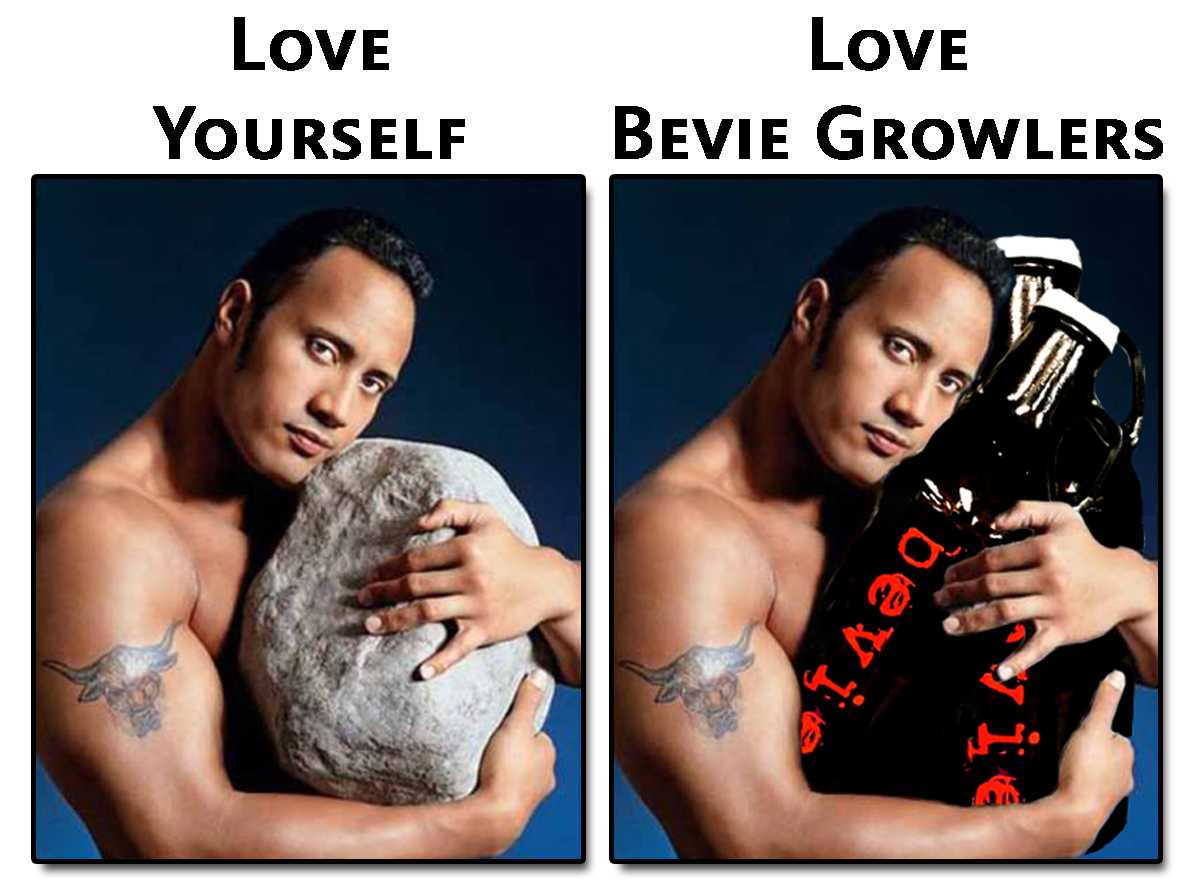 Currently on tap:
Good Measure (VT) | Near Berlin | Dry Hopped American Table Sour | 3.4% ABV | 10 IBU's | $6.99/32oz $12.99/64oz – This low-alcohol sour was kettle soured for over 48 hours to produce a tart and mouth puckering flavor. The grain bill is reminiscent of a classic German Berliner-Weisse with heavy wheat . We hopped this to a low bitterness with a newer varietal called Caliente. It was then Dry-Hopped lightly with Citra, Cascade and Lemon Drop hops to bring some tropical flavors into the mix. Vienna Malt, Wheat Malt. Caliente, Citra, Cascade, Lemon Drop
Rock Art (VT) | Southern Cross IPA | 7.5% ABV | 75 IBU's  $5.99/32oz $10.99/64oz – Draft only VT IPA – no bottles/cans –

seasonal IPA from our friends at Rock Art

… get your Bevie jug of this fresh and juicy VT IPA while you can!

Southern Cross Hop info from nzhops.co.nz:
A dual purpose / soft bittering hop with a citrus "lemon zest" character with hints of pine (11-14 % AA)
Breeding: 
A triploid cross between the New Zealand variety "Smoothcone" and a 1950's research variety bred from a crossing of an early North American type known as the "Cali" (short for Californian) with the ubiquitous English Fuggle. Released from New Zealand's HortResearch hop breeding programme at Riwaka in 1994.
Selection: 
The aroma is characterised by a heady mix of lemon peel and pine needles layered beneath a clean spiciness during selection. The Southern Cross has an excellent essential oil profile and low Cohumulone while producing consistent levels of alpha acid.
Brewing: 
A kettle variety of the highest order Southern Cross imparts a soft bitterness with a subtle resinous quality. The essential oil component is such that it can deliver a delicate balance of citrus and spice when added at the end of boil or a much bigger punch in the hopback or direct to the fermenter.
Applications: 
Alpha Acids and Total Oil matched with low cohumulone find this extraordinary hop several applications, single or multi-purpose to achieve subtle citrusy lager to big fruity driven ales.
"A hop with many talents"
Singlecut (NY) | Workers Are Going Home | Double IPA | 8% ABV | $9.99/32oz $18.99/64oz – AND WHEN THEY GET HOME they're cracking open this super soft and smooth, stone fruit & mango / mild tangerine / dank citrus IIPA that drinks like a much more sessionable brew. This is our most international IIPA yet, hopped with new-age Euro as well as Aussie and PNW varieties. Hey it's nice to know every day has its night!
Altamont (CA) | Berry White Fruit Beer | 4.7% ABV | $4.99/32oz $8.99/64oz – Blackberry wheat beer – only $5 for 2 pints or $9 for 4 pints!

Ballast Point (CA) | Cinnamon Raisin Commodore | 6.5% ABV | 62 IBU's $7.99/32oz $15.99/64oz – From ballastpoint.com:  A stout with some spice.  Our Cinnamon Raisin Commodore is truly a story of experimentation. Originally a gold-medal winning American stout first born in our R&D program, our brewers developed a new variation, adding cinnamon and raisins to this dark, bittersweet brew. The result is just the right amount of sweet and spice, with roasty maltiness at the helm.
Stone Corral (VT) Raspberry Black Beer | 6.1% ABV | $13.99 64oz / $7.99 32oz – Robust black beer with raspberries- Draft Only, No Bottles/Cans Produced