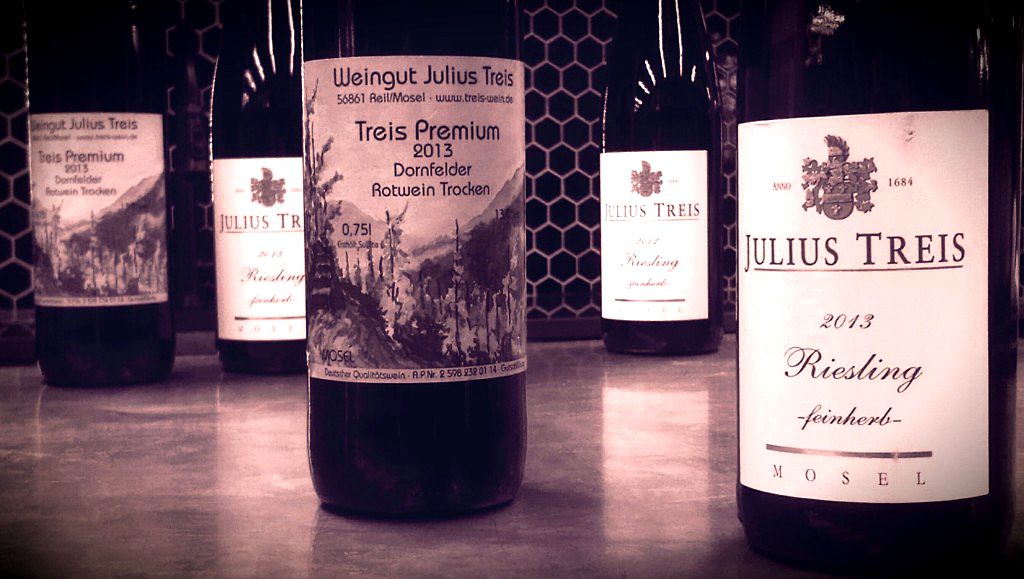 It is not everyday you get to meet, hang out with, and sample wine with a worldclass winemaker

so take advantage of a very special evening at the Beverage Warehouse!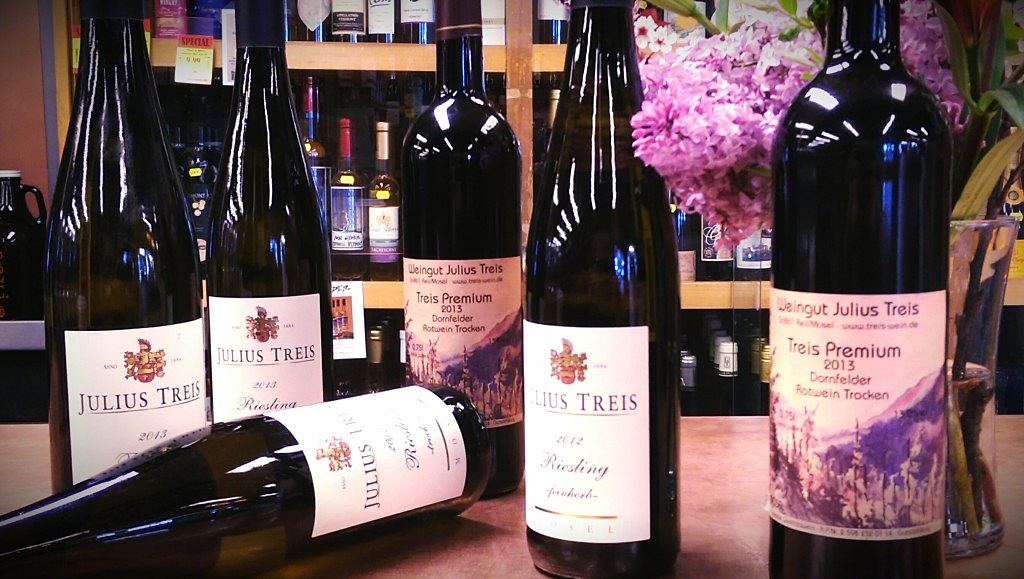 Join us Friday, May 20th, from 4-6p

for FREE bottle signing  & samples with Tobias, Julius Treis winemaker extraordinaire.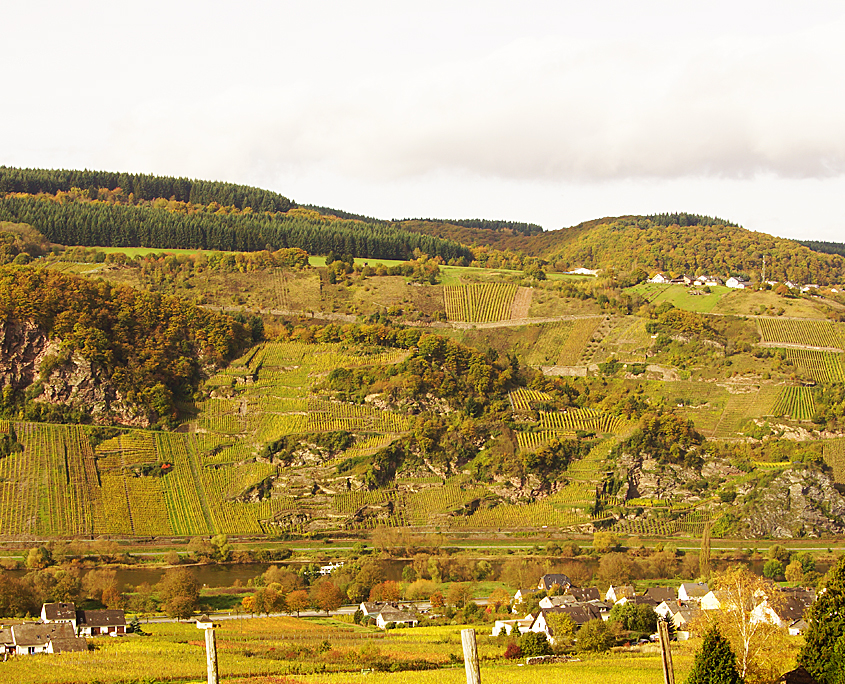 Julius Treis wines exude spring.

  Especially Riesling wine. 

Riesling gives you light floralness with a touch of sweetness

–

Dornfelder

(you gotta come in and try it!)

is soft, rich, red wine with a not-overbearing structure,

perfect for warm days and cool nights.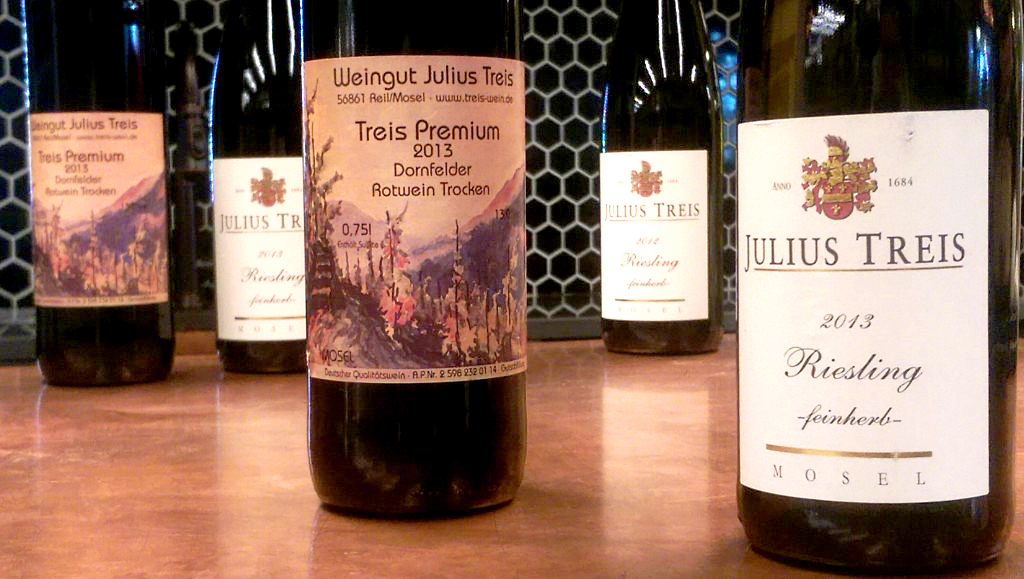 We are muchly looking forward to this tasting,
we hope to see you enjoying wine and chatting with an acclaimed European winemaker!
Wine Tasting Menu:
Dornfelder Trocken '14 (RED)

Riesling Trocken '13

Riesling Feinherb '14

Riesling Spatlese 'Alte Reben' Trocken '12

Riesling Spatlese 'Mullay Hofberg' Feinherb '12/'13

~ The Vineyards ~
Our vineyards are about 90% in steep and Steilstlagen. We manage our vineyards in harmony with nature and are you still defenseless. Year after year, we are bursting to unpredictable weather to harvest ripe and healthy grapes. By selektionierte Hand picking in several reading passages we harvest the grapes in ideal ripeness.
The Mullay-Hofberg is our leading position in the every year our best wines grow. Innumerable small terraces and dry-stone walls; a steep slope with about 150m height difference; ungrafted, over 50 years old vines; the orientation to South south-east; the blue slate floor.
All together it makes the editing process Knochenjob which would be impossible without idealism and striving for highest qualities.
Müller-Thurgau, Pinot Blanc, Dornfelder and Pinot Noir are cultivated on slopes and complement our Riesling selection.

~ The History ~
The winery Julius Treis is in Reil on the Moselle and looks back on a long tradition of wine. Since 1684 our family is connected to the viticulture. Each generation loved and
lived viticulture. Today Tobias Treis continues the tradition.
This 5-hectare vineyard has mainly devoted to Riesling. This is grown in the steep and Steilstlagen. The management here is carried out exclusively by hand. A small part of the vineyards in the slopes is additionally fitted with Pinot Blanc, Müller-Thurgau, Dornfelder and Pinot Noir.

~ Tobias & Andrea ~
Tobias –
Since 2008 Tobias Treis gives the wine its own handwriting. The Studied Dipl. Ing. For oenology continues the high quality struts and the family tradition and supplemented it with new knowledge, passion, idealism and innovative ideas.
Andrea –
Andrea works as a biological-technical assistant in a winery in the wine laboratory. As former Mosel wine queen (2011-2012) Andrea represented the Mosel Riesling in the world. In her spare time she is Tobias, since 2011, laid aside organizes events and remains an enthusiastic ambassador for the Mosel wine.

~ Tradition ~
The generations collected knowledge of terroir, peculiarities of vineyards and legendary stories are our little treasures. They are preserved and passed down from generation to generation. This wealth of experience and intuition can be found in our wines again.
So you can taste the origins and fine vintage differences.
Maintaining tradition does not keep ashes but keep embers glowing on.

~ Generations ~
Irma and Theo Treis led together over 40 years the fortunes of the estate. Theo Treis is Tobias Treis advice. He leads the treasury of the estate, in the mature many liquid treasures from more than 6 decades. Irma Treis supervised and cared passionately our holiday guests, Rebstock sponsors and guests in Schöppchengarten.