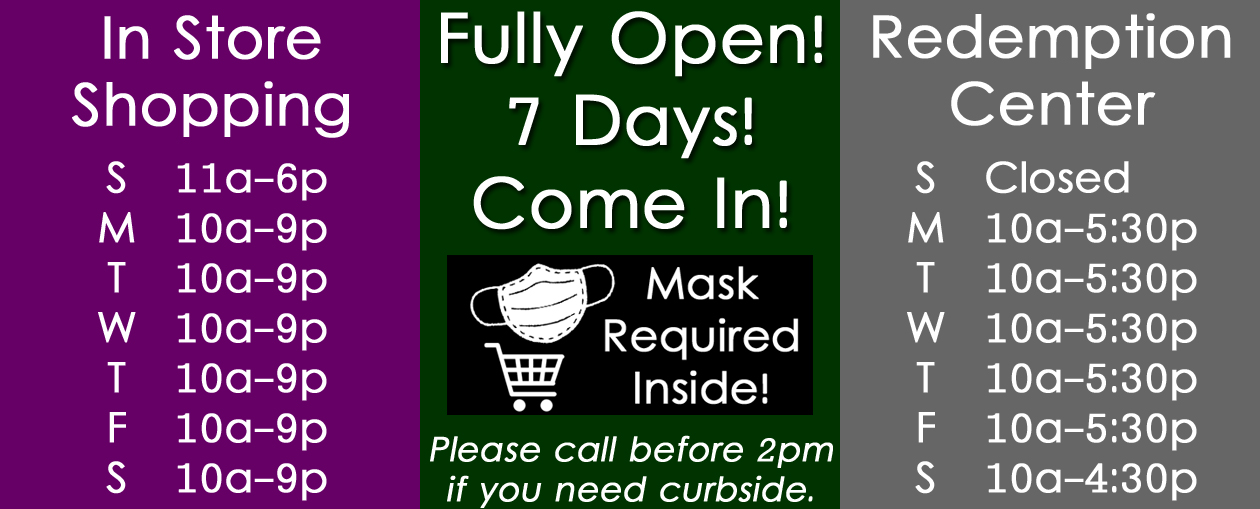 Hey everyone!
Please remember that our redemption center needs to close on time.
We put a chain up at the end of the building 30-45 minutes before we close depending on load size of cars already in the back drive up area, so that our staff can have time to finish the line and clean.
If the line is beyond where the chain goes up, you will need to come back another time.
Please plan accordingly.
Our staff is working incredibly hard since other redemption centers are currently closed and our lines are longer than usual…. we will be respecting their need to leave at the right time… <3
– Jen
Redemption Center Hours – Different Than Retail Store Hours
Redemption Center Schedule – Open 6 Days

Sunday | CLOSED
Monday | 10a-5:30p

Tuesday | 10a-5:30p

Wednesday | 10a-5:30p
Thursday | 10a-5:30p
Friday | 10a-5:30p
Saturday | 10a-4:30p
Retail Store Schedule – Open 7 Days
Sunday | 11a-6p
Monday | 10a-9p
Tuesday | 10a-9p
Wednesday | 10a-9p
Thursday | 10a-9p
Friday | 10a-9p
Saturday | 10a-9p