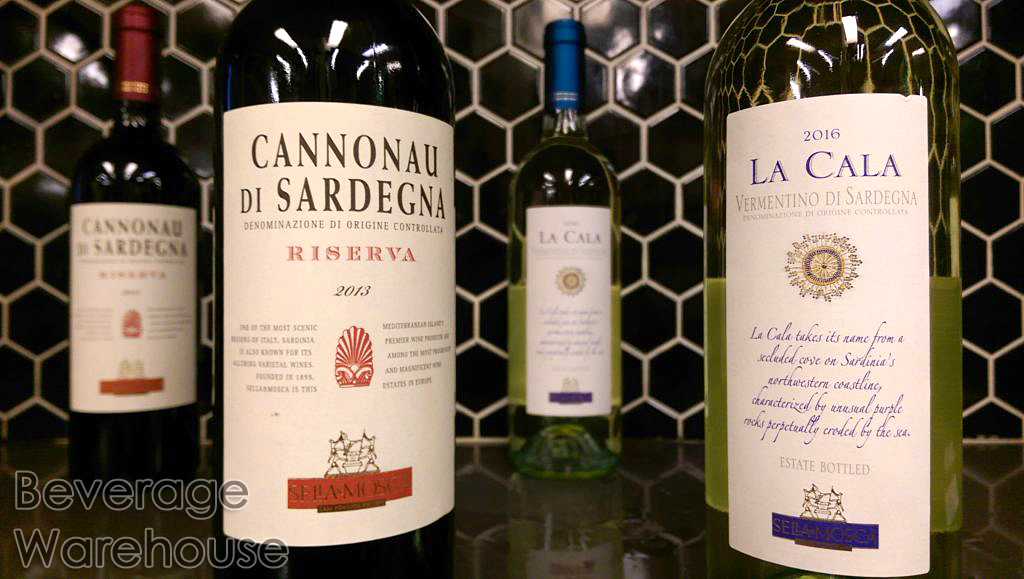 We are delighted to highlight a couple of Italian wines from the island of Sardinia we've enjoyed for years… Sella & Mosca Cannonau and La Cala Vermentino.
In addition to being delicious, the crowd friendly Sella & Mosca Cannonau and Vermentino wines are also very wallet friendly, both clocking in at under $15 a bottle.
The next time you need an easy drinking bottle of wine but want something different, snag a bottle of Sella & Mosca Cannonau and/or La Cala Vermentino and wash your palate to the Mediterranean.
Sella & Mosca | Cannonau di Sardegna Riserva DOC | Red | 14% ABV | $13.99/750ml
Sella & Mosca | La Cala | Vermentino di Sardegna DOC | White | $13% ABV $10.99/750ml
(Italian images above, and descriptors below, courtesy of sellaemosca.com)
Cannonau di Sardegna Riserva DOC –

Cannonau grapes are the very symbol of Sardinia and grow well on the Sella&Mosca estate, where the vineyards are exposed to the north-easterly winds. It is a proud, generous wine, which matures during ageing in centuries-old oak barrels, developing a complex, elegant nose. The warm, dry palate is nicely balanced with slight hints of plums and oak. It goes well with all red meat dishes and is excellent with game.
VARIETY: Cannonau, Sardinia's best-known red variety, as proud and wild as inland Sardinians themselves. The grape is known in France as Grenache and in Spain as Alicante.
PRODUCTION AREA: The Cannonau vine thrives both on the warm, sandy soils of the Sardinian coastline and on the harsh, rocky terrain of the island's mountainous interior. At Sella&Mosca, Cannonau is grown in the southeastern part of the estate, where it is exposed to the Grecale wind.
HARVEST PERIOD: The grapes are picked in late autumn when the berries are just starting to dry.
WINEMAKING: The crushed and destemmed grapes are given lowtemperature skin contact for at least three days, allowing the extraction of colour compounds and tannins that will enable the wine to age unhurriedly in time-hallowed oak casks. Temperature-controlled fermentation at 25-28°C takes about 12 days.
APPEARANCE: The initial ruby red gradually shades into warmer, less intense shades as the wine ages.
NOSE: The faintly tousled woodland fragrances of the wine's first year mature with ageing into a complex, elegant bouquet proffering distinct whiffs of violets that fuse well with the tertiary notes of spiciness contributed by cask conditioning.
PALATE: Warm, dried and beautifully poised, with a restrained background note of plums and an aristocratic hint of oak.
AGEING: For two years in traditional casks of Slavonian oak stored in temperature-controlled cellars with no direct sources of light. A further period of bottle ageing completes the wine's maturation process.
FOOD MATCHINGS: Beautifully complements any red meat dish and makes a perfect partner for game.
Vermentino di Sardegna DOC –

Vermentino, which has acclimatised well throughout Sardinia, is grown in the north-eastern corner of the Sella&Mosca estate, on ancient alluvial soil. Its very concentrated nose shows great complexity that focuses on the variety's aromatic typicity. The palate has firm structure, with taut flickers of marine salinity backed by fruity notes in the soft finish. The "offspring" of the north-westerly wind, it has a natural vocation as an accompaniment to seafood.
VARIETY: A Mediterranean variety, probably from Spain, known in the south of France as Malvoisie Gros Grain. Vermentino spread along the coasts of the northern Tyrrhenian Sea and subsequently established itself in Sardinia.
PRODUCTION AREA: Alghero, Tenute Sella&Mosca, vineyards in the north-east quadrant on long-established alluvial soil.
HARVEST PERIOD: First and second ten days of September.
WINEMAKING: The crushed and destemmed grapes undergo brief low-temperature skin contact. The must obtained by light pressing is clarified and then fermented at strictly controlled low temperatures.
APPEARANCE: Very pale straw with persistent lemony-green highlights.
NOSE: Very intense, steadily unfolding all the complex aromatics characteristic of the variety. Careful analysis of the sensory perceptions reveals evidence of the Mediterranean growing environment and scrupulous fermentation.
PALATE: Notes of sea salt vein the structure, enhancing fruit, apparent on entry, that lingers on the soft, leisurely finish.
FOOD MATCHINGS: A "child of the Maestrale wind", La Cala is at its inimitable best in the company of seafood of all kinds on very special occasions.