The Fable Farm Fermentory brothers have released their latest creations into the world, and we're thrilled to have secured a little bit of these limited, lovely creatures for our customers!
Along with new vintages of Fable's still & sparkling apple ciders, vinous ciders and honey wine, there is a brand-new perry (sparkling pear-based cider), and a wine made from 100% St. Croix grapes found in a 10-year old Vermont vineyard that had been previously abandoned.
Read about each bottling below, and then pop into the Bevie to pick up these delightful, surprising, all-natural Vermont-made liquids!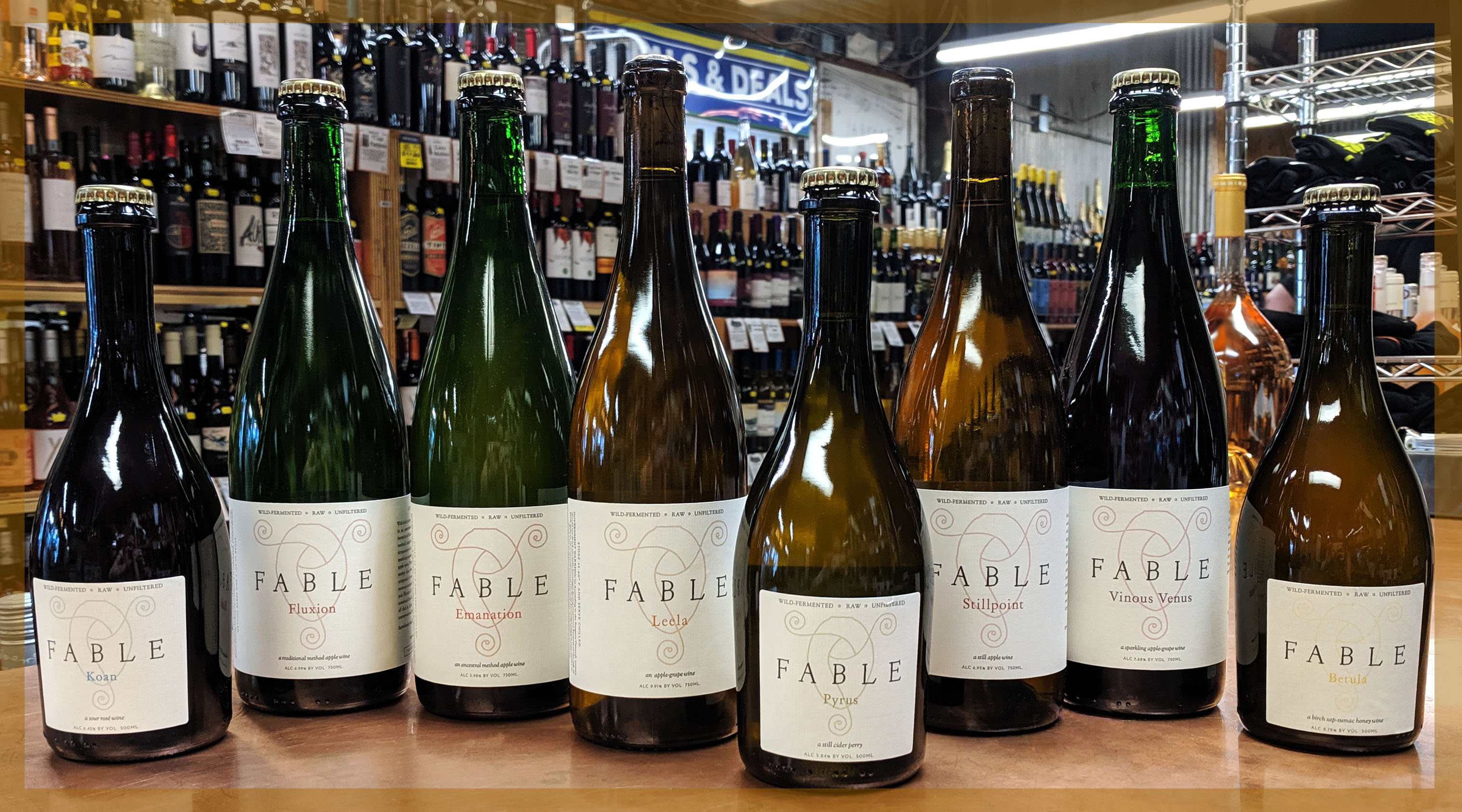 Emanation
2018
5.98% ABV
189 cases made
Ingredients: foraged + cultivated cider apples, wild cultures of yeast + bacteria
Our 2018 vintage of Emanation is a dry sparkling cider made in the ancestral method from the juice of both foraged and organically cultivated cider apples. Vermont's Walden Heights Nursery & Orchard, whence the cultivated fruit was grown, is a magical place where orchardist Todd Parlo shepherds a rich diversity of alpine fruit and nursery stock on a village hillside terraced by hand.  The apple trees are sculpturally pruned and allowed to grow to their fullest potential amidst a polyculture of companion plantings. This rendition of Emanation is delightfully fresh, crisp, and tart, emanating a sessionable innocence.
750mL | $17.99
Fluxion  Batch IV
2016 + 17
6.99% ABV
199 cases made
Ingredients: foraged cider apples, wild cultures of yeast + bacteria
With faith in flow, we merged multiple vintages of cider aged in an assortment of wood barrels to create our fourth iteration of Fluxion that awaits you. Made in  the traditional method, maple syrup was added to kick-start a secondary fermentation in bottle. This cultured blend of cider is the sparkling counterpart to Stillpoint. Dry, with refreshing acidity.
750mL | $18.99
Stillpoint
2016 + 2017
6.95% ABV
56 cases made
Ingredients: foraged cider apples, wild cultures of yeast + bacteria
Stillpoint is an aged blend of cider, cultured in an assortment of wood barrels before bottling still, and from which our sparkling cider, Fluxion, arose.  This prolonged aging in our fleet of barrels tends to give the cider smooth, buttery, and peppery qualities. We are excited for more people to explore the wonder, simplicity, and solemnity of still cider.
750mL | $18.99
Apple – Grape Wine
Vinous Venus 
2017
7.68 % ABV
156 cases made
Ingredients: foraged cider apples, red grape pomace, wild cultures  of yeast + bacteria
A favorite with Fable Farm Fermentory fans, Vinous Venus is a pink-hued, apple-grape wine created in the traditional method.  Macerated red grape pomace and fresh red grape clusters containing residual sugars post pressing were co-fermented with a blend of foraged apple juice. The wine was then pressed off and sent down to the cellar to age in cultured wood barrels for a year, before bottling as a sparkling apple-grape wine. Vinous Venus celebrates the integration of foraged apples and grapes with its dry sparkle and refreshing acidity.
750mL | $19.99
Leela
2015/16
9.91% ABV
119 cases made
Ingredients: white grapes, foraged apples, wild cultures of yeast + bacteria
Herein awaits an amber-hued, apple-grape wine made by merging 40% Vermont-grown grapes and 60% foraged cider apples. In 2016 we purchased destemmed white grapes from our friends at Lincoln Peak Vineyard of New Haven, VT. We placed half the berries into an open-top vessel to macerate and  pressed the other half immediately. This wine contains both of these fermentations blended with a medley of multi-vintage cider barrels. Half of the final blend was used for our previously released sparkling wine, Leo, while its sister, Leela, was allowed to age for 6 months in barrel and another year in bottle.
750mL | $19.99
Koan 
2015
6.42% ABV
111 cases made
Ingredients: red and black currants, aronia berries, concord grapes, foraged apples, wild cultures of yeast and bacteria
[Koh ahn], a paradoxical anecdote or riddle, is used in Zen Buddhism to provoke enlightenment and demonstrate the inadequacy of logical reasoning. We love sour things. Sour stimulates digestion, opening the palate to experience a medley of flavor, while also inspiring the mind to open up to puzzling tastes. This sparkling apple wine was barrel aged for 3 years and then steeped with a mixed medley of berries before bottling with a dose of honey in the traditional method.
500mL |  $14.99
Perry (NEW!)
Pyrus
2015 + 2016 + 2017
32 cases made
5.84% ABV
Ingredients: foraged pears and apples, wild cultures of yeast + bacteria
It's a rare treat to discover the bulbous pearl of pears when foraging for apples; but when we do, we jump for joy!  This still perry was barrel-aged for 2 years before bottling, and contains a blend of apples and pears from three different seasons. Residual sugars remained in barrel for over a year, and we hoped that fermentation would jumpstart in bottle to create a sparkling wine. Instead we received a beautiful still wine, expressing a refreshing interplay between volatile acidity and sweet appley-pear notes.
500mL | $15.99
Honey Wine
Betula
Batch II: 2017
9.79% ABV
Ingredients: raw birch sap, raw honey, foraged sumac berries, wild cultures of yeast + bacteria
Filtered through the roots and vascular tissues of Birch trees, each Spring living sap-water seeps out of tapped trunks as an elixir of life — long harvested as a tonic beverage of northern climes. Raw honey from Mcfarline Apiaries of Benson, VT was dissolved into raw birch water and left to ferment with whole clusters of foraged sumac berries. Bottled in the traditional method, honey was  added a second time to create a sparkling dry wine with earthy notes and a robust acidity.
500mL | $14.99
Grape Wine (NEW!)
St. Croix
2017
7.08% ABV
13 cases made
Ingredients: St. Croix grapes, wild cultures of yeast + bacteria
Our farm and fermentory lies on a branched road that was once used as the main thoroughfare from Boston to Montreal. Now known as the Royalton Turnpike, this graveled pathway winds through a pastoral landscape of lush fields and forests, and speaks to a time when horse and buggy brought passers-by from city to country. In 2016, we discovered a 10-year-old vineyard 25 minutes north, just off the beaten path from this historic road. In 2017 we were guided by the weather and our overall circumstance to harvest the St. Croix a bit underipe. Red-skinned St. Croix normally produces red wine, but in this iteration, all of the red pigments dropped out of solution over the course of a year of aging in glass demijohns. The resulting low alcohol wine is white, light and refreshingly tart.
750mL | $23.99