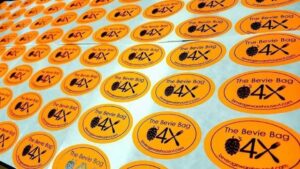 Feed our neighbors by drinking beer? DONE!  We are pumped to hold our 7th Annual Hops 4 Hunger starting today, November 18th, and lasts until all bags are gone!
This year it is streamlined to 2 Bags with 4 amazing local brews.
Each bag is sold at a premium and 100% of our profits go to our local food shelves.
This year's bags:
The Bevie Bag ($22)
Special Edition H4H 16oz Can Fiddlehead Mastermind
Zero Gravity GiggleTwig
Lawson's Finest Liquids Double Sunshine
The Alchemist Luscious
Hill Farmstead Brewery Bag ($24)
Susan
Mary
Citra
(1 repeat beer)
In addition, we have an extremely limited amount of Beer Cave release single bottles to benefit the cause as well! Get in quick for a chance to purchase a bottle of Cantillon or one-off cellar release Drie Fonteinen (limit one[1] bottle per person).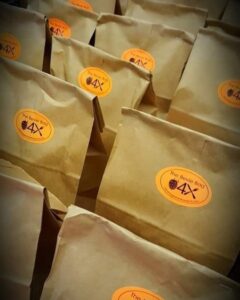 The lunch bags may also contain a hidden goodie(no peeking), with Bevie gift cards, random swag, vouchers for a Bevie t-shirt, or maybe even a voucher for a jar of delicious Tipsy Pickles.
Some traditions are better than others!!
So much gratitude to our local friends who make the goodness for our lunch bags!
Additional thanks to:
Last Stop Sports Bar, Farrell Distributing, and perhaps most importantly, Chittenden & Winooski Food Shelf, Orleans Federated Church Food Shelf, and Sheffield Food Pantry who are working harder than ever to make sure we have food on the tables of Vermonters.
No reservations, hope to see you soon!
Edit 11/18 12:55PM
Our friends at House of Fermentology didn't want to miss the party and have generously added to our H4H stock with these two beauties!
Orange Dot 2021
Golden Sour Ale – A slight departure from the original; aged in oak barrels with Nagami, Meiwa, and Centennial kumquats, zest of Seville oranges, and Vermont wildflower honey. 5.4%ABV
$22.99 | 375mL Bottle

Depictive Dot
Golden Sour Ale – First time release. Following primary fermentation, this beer was aged in fresh red wine barrels and ultimately moved to HoF's cherry wood foudre with VT maple syrup from RunAmok and seaberries from VT Seaberry Company. 7.7%ABV
$22.99 | 375mL Bottle
**Limit One(1) Bottle of Each Per Person, Per Day**
Prices do not include VT tax or deposit.