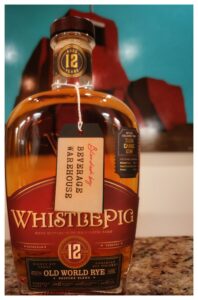 86 Proof – 12 Year Rye Blend
$117.99
60% Madeira Casks, 20% Sauternes Barrels, 20% Port Pipes
Only 156 Bottles Made
This is the Swiss army knife of whiskeys.
It has all the proper tools that any whiskey enthusiast would crave.
Nose of an unlit Swisher Sweets cigar that has been kept in a pirate's chest; another inhale and it is fallen orchard apples, the kind that have been sitting on the ground for just long enough to release that sweet Vermont fruit smell into the chilly air.
You sip…. It's elegant, with a voluptuous memory that doesn't say goodnight too early.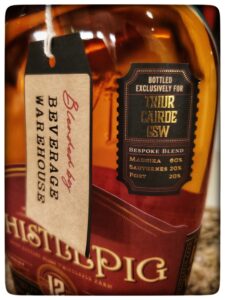 Michelin star crème brulée on the palate with mulling spices and white pepper dashed in to keep the notes floating.
Man… this is one fine layered bottle.
This is the kind of bottle you can pull out at a campfire or present to your in-laws to win them over.
It is pure silk, and we are smitten.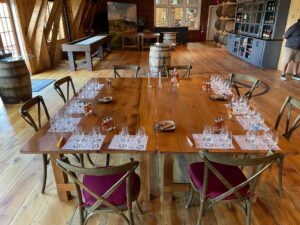 On July 28th, my Dad (Walt), George, & Shon spent the day at beautiful WhistlePig in Shoreham, Vermont.
For hours they blended samples of 12-year-old Rye that had been snugly resting in 3 different casks: Sauternes, Madeira, & Port.
At the end, they went "EUREKA!" as they decided on the perfect layering of these gorgeous flavors.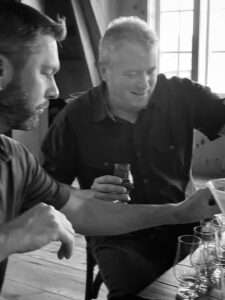 We are proud to be offering our exquisitely woven blend for $117.99.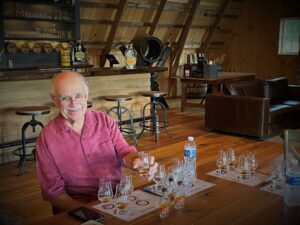 Our previous 10 year offering of "Walt" was our fastest selling Whistlepig offering of all time.
With the three same Bevie palates on this 12-year bottling, we know we nailed it with their selection of 20% Sauternes, 60% Madeira, & 20% Port.
"What's with the GSW?"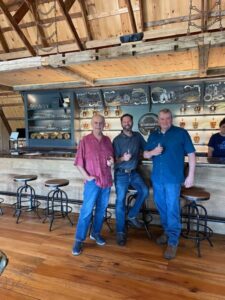 That's for George, Shon, & Walt, our beloved trio that mixed this year's offering.
Also on the label is "Triúr Cairde". This translates in Celtic to "Three Friends", which these Gentlemen truly are, and nods to the 3 barrels that so harmoniously now hang out together in our bottling.
We hope you connect some memories to this bottle.
Cheers,
Jen and the Bevie Staff