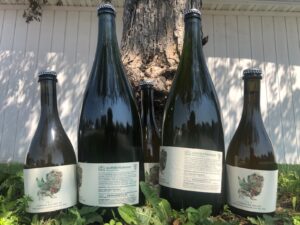 We've got another Wunderbar release for you!
Wunderkammer's Fig. 2 is the brewer's first contribution to the Vermont Hop Project initiated by Champlain Valley Hops. Chinook is up first, a wheated pale ale base beer with standard Pale Ale hopping, which is to say a more firm hop presence in bitterness and aroma than is typical for Wunderkammer. Fermented with mixed culture and conditioned in oak before adding Chinook dry hops and bottle conditioning. The result is a fresh, refreshing and mind-bending interpretation of a Pale Ale that travels in both worlds of British and Belgian brewing.
500mL Bottle | $9.99
*Limit Four(4) Per Person, Per Day*
1.5L Bottle | $45.99
*Limit One(1) Per Person*
Prices do not include VT tax or deposit.