Raptor Ridge | 2015 Pinot Gris | Willamette Valley | Oregon | $16.99
One of the highlights of working in the beverage industry is not just being able to share enjoyable libation with customers, but to also meet the people behind the label.
Raptor Ridge winery has a wonderful trifecta of great wine, marvelous people, and good causes they support.
We are proud to carry their refreshing, well balanced Pinot Gris.  Not too rich or light, it's just right and will appeal to a wide swath of white wine drinkers.  Think not as light as Pinot Grigio, not as heavy or oaky as Chardonnay, and not as acidic as most Sauvignon Blanc.  At $16.99, this wine pairs perfectly with grilled swordfish, lemon chicken, light pasta dishes, and fish taco's.
Next time you're in looking for a white wine you probably haven't had, give Raptor Ridge a try and delight not just your 5 senses… but your sense of supporting a responsible winery doing good things for the community and environment.
2015 Pinot Gris | Willamette Valley
Editor's Choice | 92 Points Wine Enthusiast
A pretty light gold hue, this wine shines brightly from the first sniff to the last sip.  It's clean and dense, with notes of bee pollen and lemon oil, flavors of apple and pear, and a touch of vanilla cookie.  – Paul Gregutt

Raptor Ridge Winery
We founded Raptor Ridge in 1995 to share in the joy of wine-growing, a calling that brings us purpose through a close connection with the land, our community and the industry. Named for our location on a ridge in the Chehalem Mountains AVA, Raptor Ridge is a haven for our native raptors and winery guests. We treat our guests to a revitalizing experience complete with vine side tastings, chef inspired pairings, and yoga retreats in a tranquil setting with a view of four mountaintops. We specialize in hand-grown single vineyard Pinot Noir sourced from a rich tapestry of select Willamette Valley sites plus our own estate, Tuscowallame. We create intriguing wines by blending intuition honed over 20 vintages with the methodical approach of maintaining hundreds of separate lots. The result is an array of vineyard-specific barrels, providing diversity and nuance to the final cellar-crafted cuvées.
– Scott & Annie Shull
2015 Raptor Ridge Pinot Gris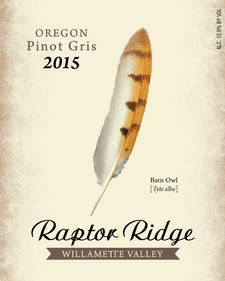 The 2015 Raptor Ridge Pinot Gris was fermented and matured in stainless steel. We strive to maintain a balance of fruit and acidity, while presenting the luscious texture and aromas that the fruit offers. The 2015 vintage includes fruit from Hawk's View, Dion and Olenik Vineyards (Chehalem Mountains AVA), Bellevue Cross (McMinnville AVA,) and Rudolfo Vineyard, in Wren, Oregon.
A portion of the proceeds from every bottle sold supports iSalud!, a non-profit healthcare program for vineyard workers and their families.

¡Salud! was created by a group of Oregon winery owners and Tuality Healthcare physicians to address the hurdles faced by vineyard workers who cannot meet their basic healthcare needs. Their knowledge of basic health education is poor, and they are overwhelmed by the maze of complex and confusing resources available in the medical system. ¡Salud!'s mission is to fill this gap.
Read more: saludauction.org