Travel through a wormhole or at warp speed to the Beverage Warehouse this Friday & Saturday to 'engage' your taste buds with a special Lawson's Finest Liquids release!
Sip of Sunshine IPA Cans – $13.79/4pk

Friday 05/06 – 2 packs per person while it lasts | 

Sold Out – Lasted until 4:56p!

Saturday 05/07 – 1 pack per person | 

Sold Out – Lasted until 7p!
Chinooker'd Bottles – $8.99/ea

Friday Stock 05/06 – 1 per person |  Sold Out – Lasted until 1:18p!


Saturday Stock 05/07 – 10a Release –

Sold Out
Super Session Cans –
$21.99/12pk | $10.99/6pk – IN STOCK
Limits are per person of consumption age,
prices do not include VT tax/deposit.

From lawsonsfinest.com: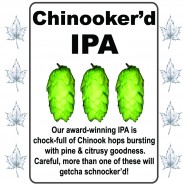 Our award-winning IPA recipe is chockfull of Chinook hops and bursting with pine and citrus aromas and flavors. Careful, more than one of these will getcha schnocker'd!
Chinooker'd is a fan favorite and currently holds high scores on  Beer Advocate with a public rating of 95 and a 100 from the Alstrom brothers, and on  Rate Beer with a 99.