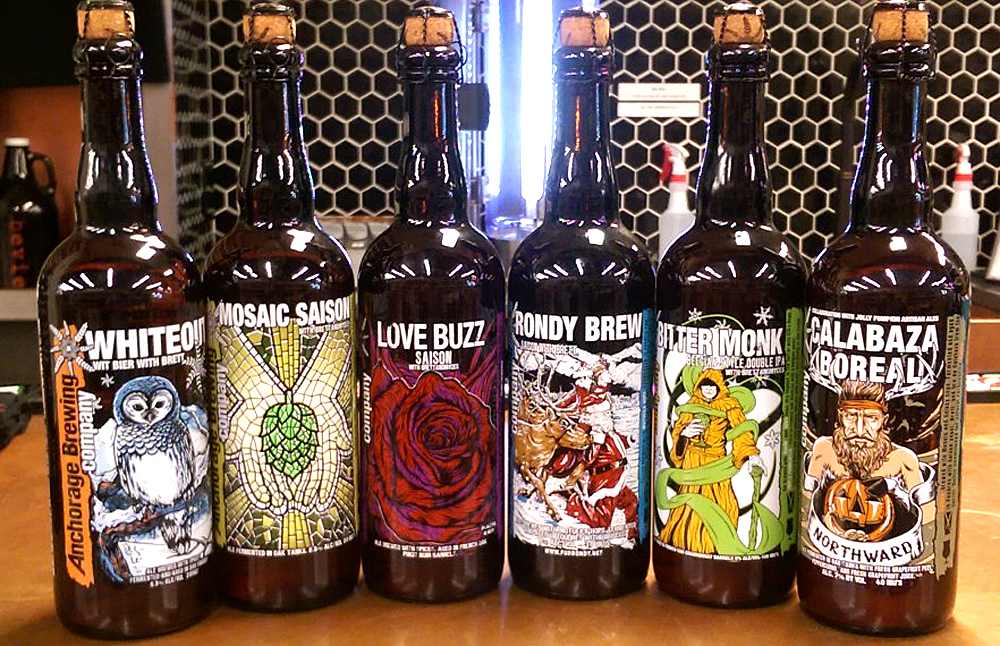 A customer recently emailed us to inquire what Anchorage Brewing Company beers we had in stock so instead of just replying to one person, we are electing to share the information with all of you!
Anchorage Brewing Company Stock | 21-SEP-16
Detailed information brazenly ripped off: anchoragebrewingcompany.com:
Love Buzz | Saison w/ Brettanomyces | 8% ABV | 40 IBU's | $14.99
A feeling overcomes, deriving of a most curious perplexity. A rich desire awakens to explore the contents of such delicate loveliness. Upon a deep connection with rounded lips, a bitter sweet complexity enters the soul…and so begins an amorous affair.
Heightened awareness envelopes the senses as the grandeur of such bold character develops. Caramel beauty exhibits itself, sprawling its full body widely upward, bubbling with excitement. Tantalizing effects of peppery bitterness grasps the tongue. Enchantment takes hold as a blanket of citrus slowly unfolds. As in any noteworthy love story, a subtle fruity sweetness of a rose emerges to the finish. A warm contentment grazes over, signifying a united marriage of balance and pleasure.
Fortitude has revealed itself to those who have encountered such an enriching experience. An experience so delectable, so defining, so unequivocal. An experience that is Love's Buzz.
 Bitter Monk | Belgian Style Double IPA w/ Brettanomyces | 9% ABV | 100 IBU's | $14.99
Deep within the tortured aberrations of a monk's mind there lay a concept of a Holy Grail of beer — a beer oft imagined but never tasted, strived for but never achieved. It's Belgian heritage manifested in its yeasty complexity, softened and rounded in its cooperage Français and made to sparkle like the stars first seen by his distant predecessor Dom Pérignon.
Bitter Monk Belgian Double IPA is such a beer. Redolent of citrusy hop bittering and massive malt infusion, this is a beer to ponder, to sip, and, even for a monk, to dream. Why then is the monk so bitter? What provokes that sly smile? What is he wearing under that flowing robe? A triple-fermented beer gives him three times the mystery. Remember, anything worth doing is worth over doing. Nothing exceeds like excess. Even for the cloistered.
And what rough monk, his hour come round at last, slinks slowly toward Brussels to be reborn.
Rondy Brew | Saison bottled w/ Brettanomyces | 6.5% ABV | 32 IBU's | $13.99
In the cold and dark heart of winter, in the slightly twisted, yet brilliant mind of a local DJ, an ember slowly burned. How long, how hot, who knows? What we do know is that the ember grew into a flame and once released, grew legs, antlers and much more…A legend was born.
In a small office, not far away, a community festival struggled. After staggering debt was paid off thanks to community support, it was time to give Rondy back to the people. Time to bring it back to its Alaskan roots and reengage the vast majority of the community that had walked away from it.
Bob & Mark brought up the idea for an event so out there, so uniquely Alaskan that it was destined for success. All it needed was someone (enter Susan Duck, Rondy's Executive Director) to round up some reindeer, a little planning and insurance… insurance that took nine months to find. Finally, the last company on the list, agreed to insure the event.
At that moment, the legendary Rondy Running of the Reindeer was born. Born of a trinity of minds just twisted enough to see the potential joy it could bring to all on hand. Bob & Mark added in the United States Marine Corps Toys for Tots as their benficiary and to date we have raised over $30,000 for them.
Susan added in the costume element when she relayed to the registrants a challenge from one "Margy J.", who "challenged everyone to show the world how Alaskans Run with the Reindeer – boas, sequins, etc.". The gauntlet hit with a resounding thud and the costumes came out in force!
In 2012, Bob, Mark, KWHL 106.5 along with Susan and the Board of Directors and Staff of Greater Anchorage Inc. invite you to celebrate the 5th Anniversary of the Running of the Reindeer! We'll see you March 3rd at 4pm on 4th Avenue!
Anchorage / Jolly Pumpkin Calabaza Boreal | 7% ABV | $14.99
Collaboration with Jolly Pumpkin Artisan Ales: Saison brewed with mosaic and galaxy hops. Fermented and aged in oak tanks with fresh grapefruit peel, peppercorns, and fresh grapefruit juice.
Whiteout Wit | 6.5% ABV | $12.99
This is a variation on the classic Belgian Witbier style, but aged in French Oak Chardonnay barrels
Brewed with lemon peel, black peppercorns and corriander (sic).
Triple fermented – first in the tank with Belgian yeast, second in french oak Chardonnay barrels with brettanomyces, and finally in the bottle with a third yeast for natural carbonation.
Mosaic Saison | 6.5% ABV | $13.99
Mosaic hopped Saison with brettanomyces, aged in fermented in oak tanks.