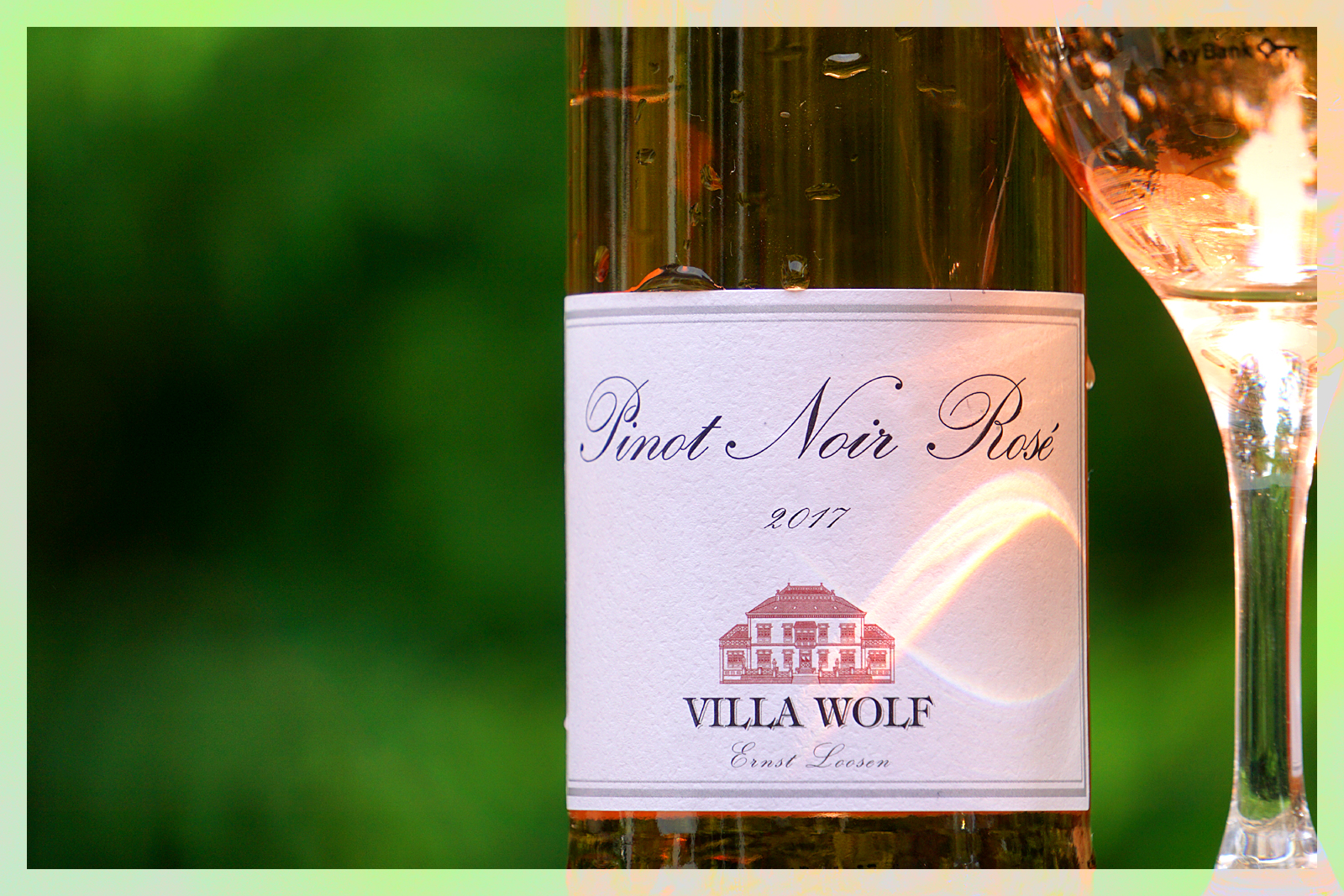 60 Days of Rosé #12 | Villa Wolf | Pinot Noir Rosé | $12.99
Coming in at number 12 during our 60 Days of Rosé is an elegant, delectable stunner for under $15.
Villa Wolf Pinot Noir Rosé has been a staff and crowd favorite this year, with multiple customers coming in, getting a bottle, then coming back for a case.
Hot, muggy weather is approaching so beat the heat with this refreshing, craveable, German rosé for $12.99!
From villawolf.com

VILLA WOLF ROSÉ –
The Villa Wolf Pinot Noir Rosé is made with fruit from vineyards farmed expressly for the purpose of producing a true rosé (called Weissherbst in German). Only perfectly ripe, healthy grapes are selected. Upon harvest the fruit is given a brief maceration (four to six hours) to extract a lovely salmon color from the Pinot Noir grapes. Thee is no saignée or coloring with red wine. The resulting wine is light and refreshing, with deliciously bright fruit flavors and a clean, zippy finish.
THE 2017 VINTAGE –
A very warm spring kicked off an early growing season in the Pfalz. It was slowed by a bout of frost in April that inhibited shoot growth and made training the vines very difficult. A warm, wet summer promoted rapid fruit development, but also botrytis. Through extensive vineyard work, however, our team was able to harvest a clean, healthy crop in September. In spite of the challenges, the wines have excellent ripeness and bright, refreshing acidity.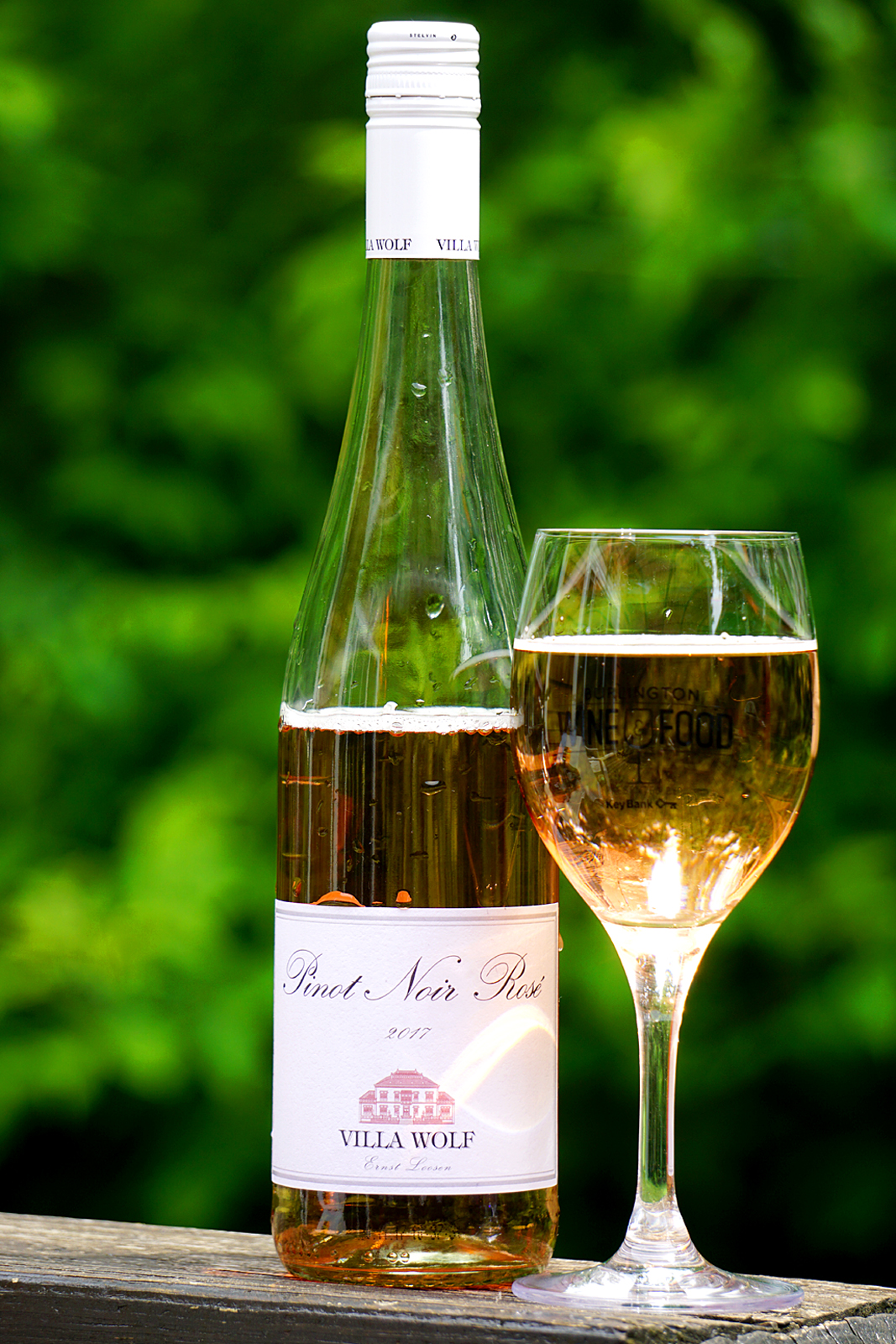 Harvested at optimal ripeness for a bright, fresh style. No overripe or botrytis-affected fruit is allowed.
True rosé, with a brief maceration to extract the delicate color.
Fermentation and maturation in stainless steel tanks.
No malolactic fermentation.
Light filtration before bottling. No other filtering or fining.
Alcohol: 11.5%
Residual sweetness: 10.5 grams/liter
Total acidity: 7.4 grams/liter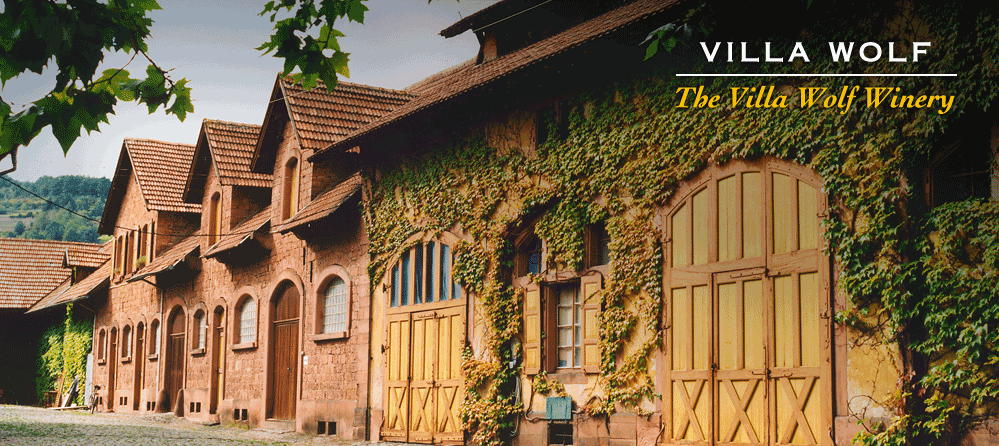 VILLA WOLF VARIETAL WINES –
The Villa Wolf varietal line-up includes exceptionally affordable, classic Pfalz wines made from traditional grape varieties. These value-priced wines combine Villa Wolf estate-grown fruit with grapes from contracted growers throughout the region.
THE PFALZ REGION –
The Pfalz (aka 'Palatinate') region is in the Rhine river valley in southwest Germany, directly north of France's Alsace region. The low-lying Haardt mountains protect the area from cold, wet Atlantic weather, making it one of the warmer and drier areas of Germany. Wine grapes do quite well here where it is possible to achieve full ripeness in every vintage. The predominant soil type in this area is well-drained, weathered sandstone. It produces wines with a fruit-driven purity and a stony structure.
ABOUT VILLA WOLF –
Founded in 1756, in the Pfalz region of Germany, the J.L. Wolf estate (now called Villa Wolf) was a successful and highly regarded winery for more than two centuries. It entered an especially glamorous era with the construction of its Italianate estate house and villa in 1843.
In the latter years of the 20th century, however, the estate languished, lacking a firm hand to guide its wine production. Ernst Loosen, of the Dr. Loosen estate, took over the vineyards in 1996, launching a dramatic turnaround in the estate's quality and reputation.
Since 2011, the estate has been managed by a talented and dedicated young couple who met while working at Dr. Loosen. Patrick Moellendorf and Sumi Gebauer have brought renewed energy and focus to the viticulture and winemaking at Villa Wolf.
Traditionally Crafted Pfalz Wines
The goal at Villa Wolf is to produce wines that express the pure, authentic terroir of the Pfalz.
Made in the classic style of the Pfalz, Villa Wolf Rieslings are drier and more full-bodied than Mosel Rieslings, with fully ripe fruit flavors and a characteristic stoniness in the aroma.
The Pfalz region also has a long tradition with other grape varieties, allowing Ernst and his team to expand their winemaking palette to include Pinot Blanc, Pinot Gris, Pinot Noir, Gewürztraminer and Dornfelder.
To preserve the naturally high quality of the vineyards, we employ sustainable viticultural practices and emphasize gentle handling of the fruit through traditional, minimalist winemaking.