Summer is here and with it comes a seasonal shift in wine and beer consumption habits.
Whether you explore the light or dark side of beer during the summer, Left Hand is a brewery that has got you covered.
When I hear "I don't drink stout in the summer", I ask them if they drink iced coffee.  Most people say they do which gives me the chance to offer them an excuse to drink dark beers.
Left Hand Brewing Nitro Milk Stout is a beer built for year round drinking.  Wonderfully balanced, smooth, and not hot 'n boozy, this is a beer you can and should drink all year round.
There is no technical 'summer stout' style yet, but if there was, Left Hand Nitro Milk Stout would be one of the first beers I would put in that category.
Burgers, BBQ's, relaxing at night under the stars next to a campfire… they all pair well with Left Hand Nitro Milk Stout.
If you're looking for a refreshing beer during the a hot day, Left Hand Travelin' Light Kolsch is a most excellent choice.
Travelin' Light cans travel very well – beach, hiking, festivals, and it won't dry you out like a big and boozy hop bomb.
Crispy, refreshing, Travlin' Light Kolsch pairs well with light summer fare like fish taco's, fresh corn salad, and grilled lemon chicken.
Pour hard, drink well! (pour the nitro stout hard, not kolsch)
– Jason
Tech info ripped from lefthandbrewing.com, pics are from the Bevie:
Travelin' Light -Golden, crisp, dry and refreshing with herbal hops.
Collection: Perennial
Style: Kolsch-Style Ale
Color: Golden
Body: light
ABV: 4.8%
IBU's: 22
Malt: Pale 2-row, Vienna, Acidulated
Hops: Willamette, Mount Hood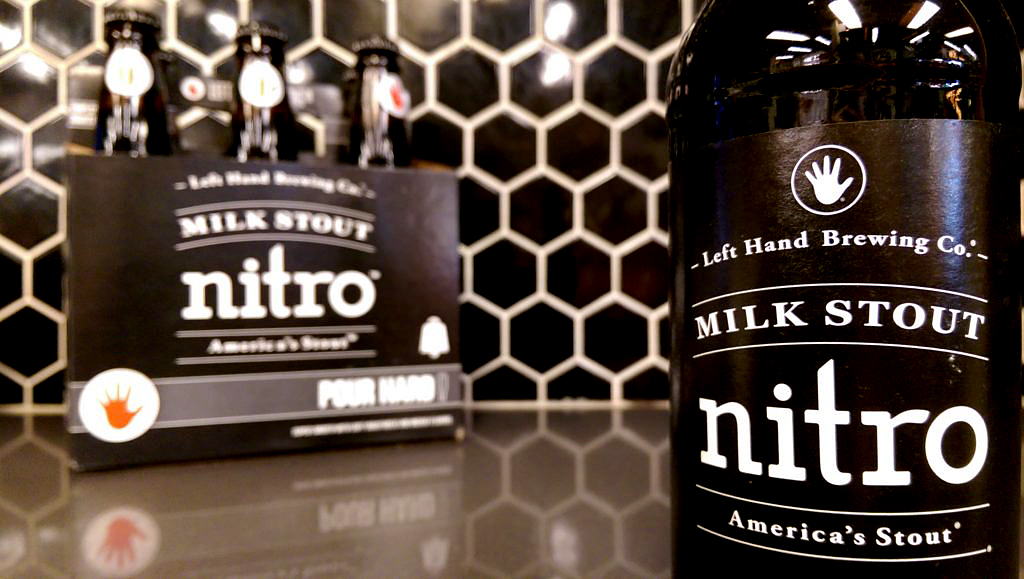 Milk Stout Nitro – Super Smooth With Soft Roastiness And Mocha Flavors.
Taking America Back. Dark & delicious, America's great milk stout will change your perception about what a stout can be. Pouring hard out of the bottle, Milk Stout Nitro cascades beautifully, building a tight, thick head like hard whipped cream. The aroma is of brown sugar and vanilla cream, with hints of roasted coffee. The pillowy head coats your upper lip and its creaminess entices your palate. Initial roasty, mocha flavors rise up, with slight hop & roast bitterness in the finish. The rest is pure bliss of milk chocolate fullness.
Collection: Perennial
Style: Sweet Stout
Color: Black, 47 SRM
Body: full
ABV: 6%
IBU's: 25
PLATO: 15.5°
Malt: Pale 2-row, Crystal, Munich, Roasted Barley, Flaked Oats, Flaked Barley and Chocolate
Hops: Magnum and US Goldings
Other: Lactose