60 Days of Rosé #09 | Wilde Farm | Dolcetto Rosé | Fox Hill Vineyard Mendocino California | $19.99
Wilde Farm Dolcetto Rosé is lovingly made with natural yeast, no sulfites are added, and it is 100% delicious!
Only 70 cases of were made for the universe we exist in, so snag your bottle of this sumptuous stunner before they vanish!
The Winery:
Wilde Farm was a place long before it was a wine. Built in 1907 on the estate of Samuel Wilde, a successful coffee and spice trader, Wilde Farm began as a horse farm, with a generous kitchen garden of vegetables and herbs. It is of the Colonial Revival style popular at the time. The edifice itself is purposefully constructed, with hand-hewn floorboards, chestnut moldings, high, plastered ceilings and strong, honest lines. Much like its eponymous wine, the house was expertly crafted of honest materials and made to age gracefully. About twenty years ago, my wife and I took over custody of Wilde Farm. There we have raised three beautiful boys, in the only home they have ever known.
Wilde Farm makes wines from old vines and exceptional vineyards. Quantities are very small. Our wines are bright, balanced and made by hand. They emphasize a balance of acid and fruit. As an added bonus they age great.
Pax Mahle makes Wilde Farm wines. He has a light touch and a craftsman's approach. Together, we work hard to ensure that Pax has the best materials available and that as a team we screw it up as little as possible. We source grapes from old vine, low yield sites, where soil, climate and honest farming practices allow for a full expression of the type of grape and the place the grapes come from. We only offer vineyard designated wines (so far).We pick when the grapes are ripe and ready. Yeasts are ambient, oak is neutral and fermentation happens at its own pace. We sometimes include stems in the primary fermentation, when it makes sense. We bottle our wines unfined and unfiltered. We sell them when we think they are delicious.

Winemaker's notes:
Vibrant and fresh with a compelling depth of aroma of effusive cinnamon laced black red & blue fruits. The palate is loaded w/ fresh fruit, spice and a supple core of spicier fruit. Weighty and textural this is really delicious served w/ a chill.
Alcohol: 12.4%
pH: 3.48
Cases Produced: 70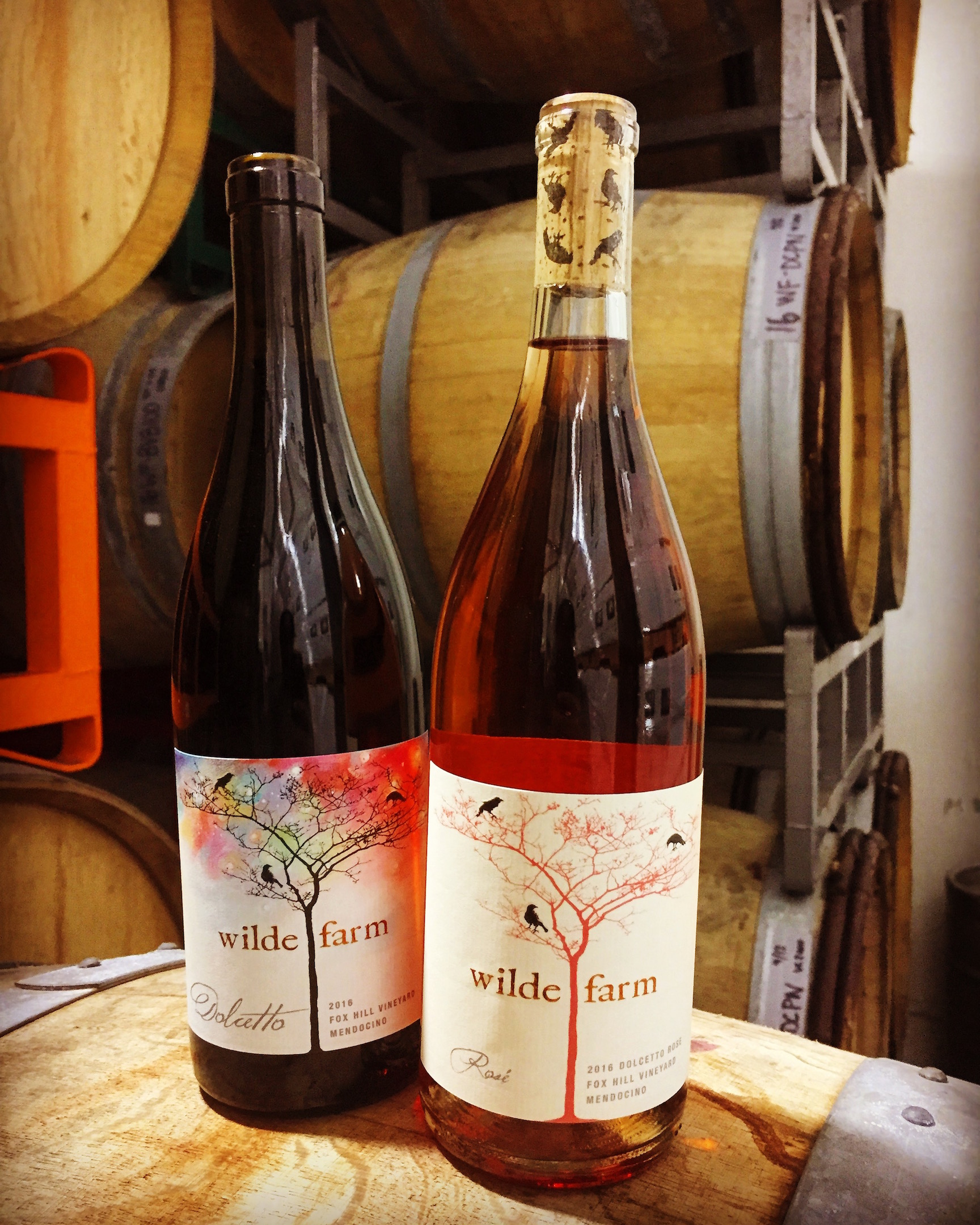 Fox Hill Vineyard:
Wilde Farm Dolcetto comes exclusively from The Fox Hill vineyard, located just south of the town of Ukiah on the Talmage Bench. The soils are well-drained, with high concentrations of gravel and sandstone. Fig, apple and plum trees dot the grounds, as well as an acre of olive trees. The Dolcetto we source comes from the cooler, tree-shaded, north-west facing slopes. This wine goes through complete carbonic fermentation with native yeasts and is raised naturally for only 6 months in neutral french barrique with no sulfur added.