Founded in 1981, Ferrari-Carano, located in Sonoma County's Dry Creek Valley in Calfornia, is the dream and hard work of Don and Rhonda Carano. Decades later, this family-owned and operated winery continues to make remarkable wines, vintage after vintage.
Drop by the Beverage Warehouse this Friday, September 28, from 4:00 – 6:00 pm and enjoy free tastes of wines in the fantastic Ferrari-Carano portfolio! Read on to check out more about the six wines that Cathy from Ferrari-Carano will feature this Friday.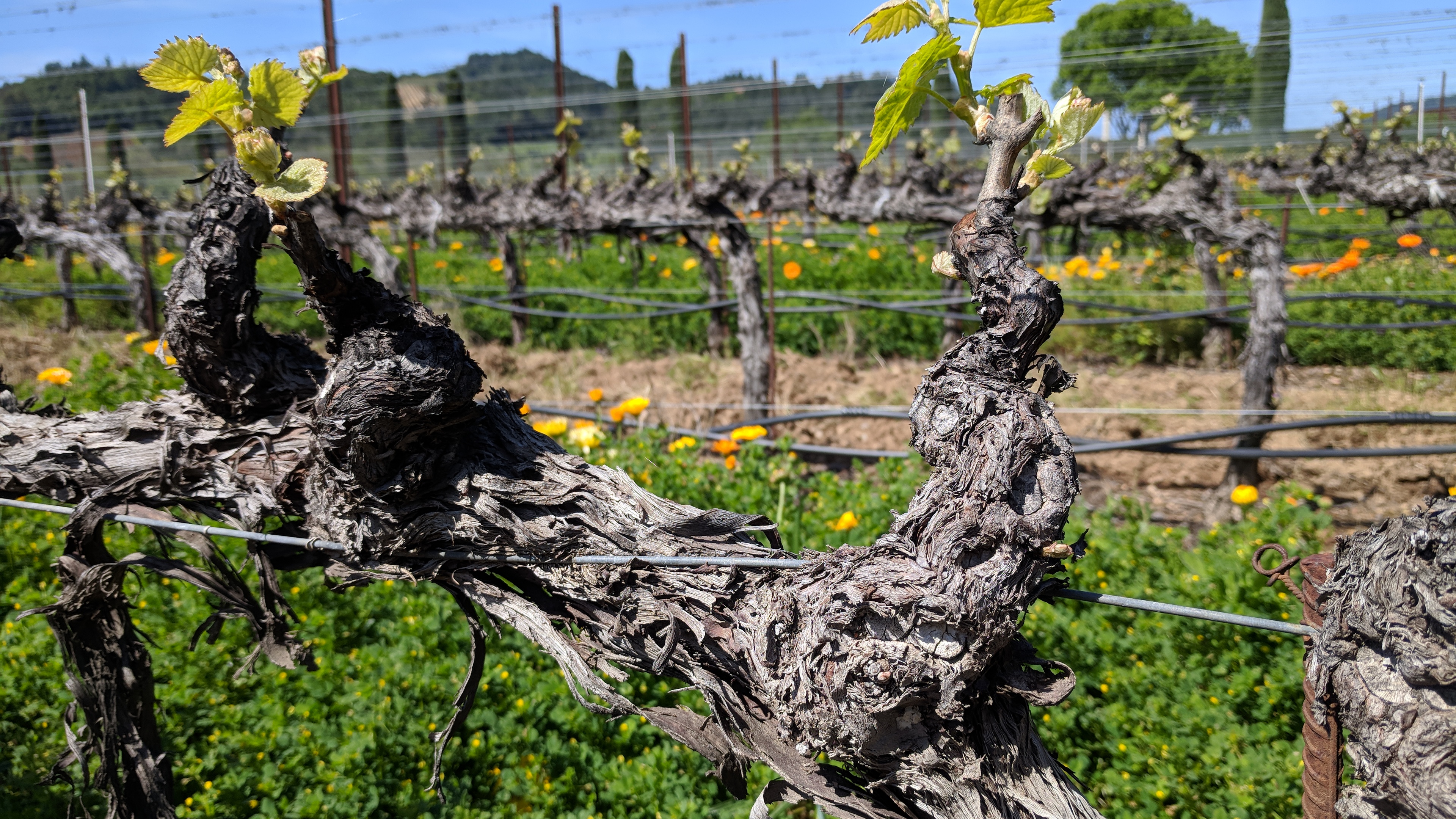 Ferrari-Carano's many Italian wines honor the family's spirit of Italy, their Italian heritage, and their philosophy of celebrating life. This tradition is carried on by a winemaking team that notably includes three female winemakers: Sarah Quider, Rebecca Deike, and Christy Ackerman.
Earlier this year, Jason and Kate from the Bevie visited Ferrari-Carano on their trip to Napa & Sonoma, and were treated to an incredible tour of the vineyard, winery and cellar…where the acoustics were fantastic!
Learn more about the Ferrari-Carano family, history and wine portfolio at www.ferrari-carano.com.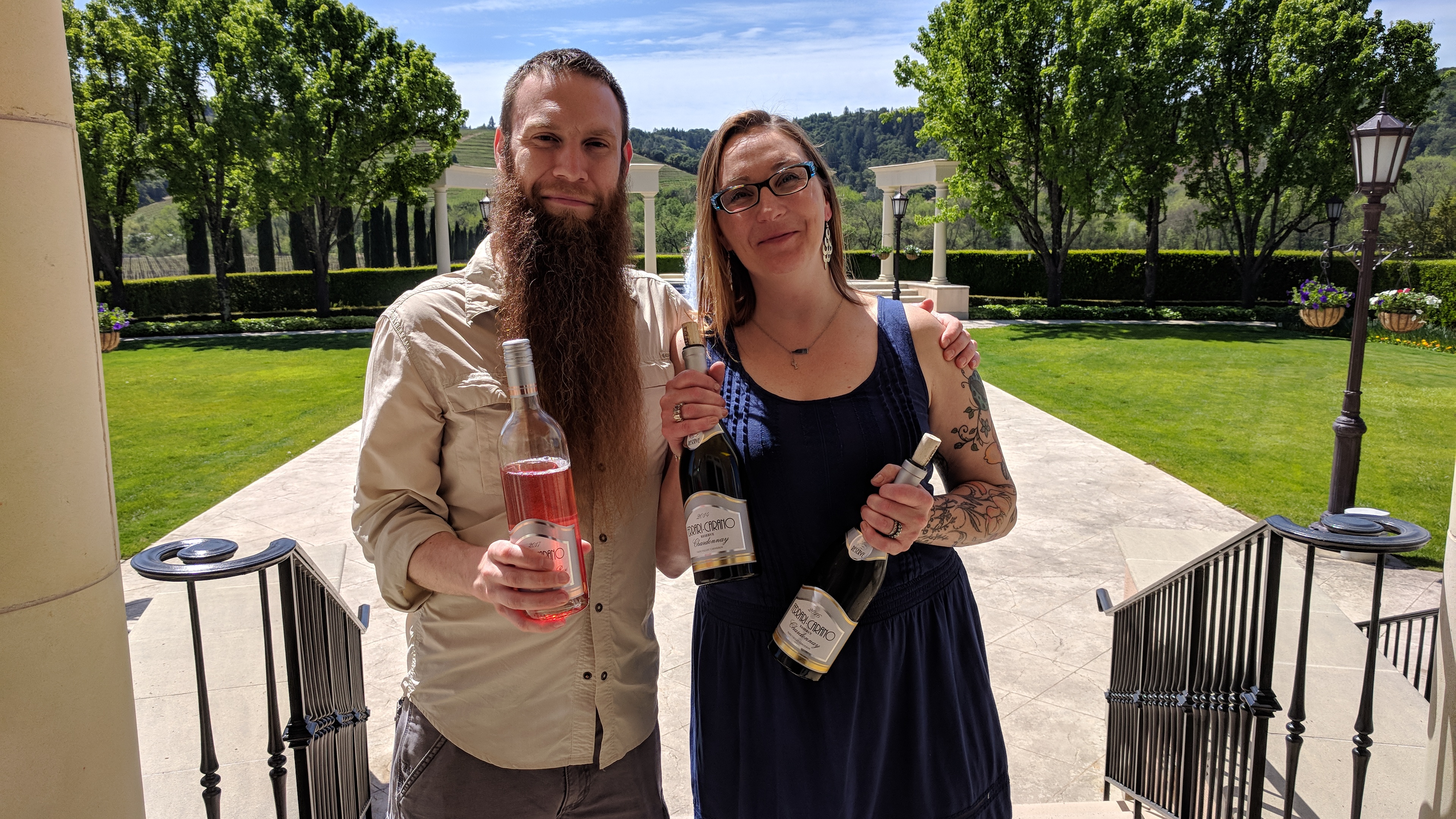 ---
The famous boar at Ferrari-Carano's historic estate in Sonoma County.
WINES AVAILABLE FOR SAMPLING AT THE BEVERAGE WAREHOUSE TASTING ON 9/27:
2017 Pinot Grigio
What's the difference between Pinot Grigio and Pinot Gris? Answer: nothing, it's the same grape. In France it's Pinot Gris and in Italy it's Pinot Grigio. And Ferrari-Carano is Italian, so it's Pinot Grigio the Ferrari-Carano label! Speaking of labels, this wine is one of the first wines to bear a new seal guaranteeing that it's made from certified sustainable grapes grown in Sonoma County. This wine is created when you take grapes from the Ferrari-Carano vineyards right along the river in cool-climate Russian River Valley and ferment them only in stainless steel — a crisp, clean, refreshing, light-bodied wine with a lot of sass, and delicious with aromas and flavors of white peach, honeyed citrus, kiwi-lime, lychee, orange blossom, apricots and Meyer lemon. This Pinot Grigio's concentrated aromas, flavors and refreshing acidity linger to the finish. Read more…
2017 Fume Blanc
One of the first two wines Ferrari‐Carano ever made over 35 years ago, this Fumé Blanc is comprised of Sauvignon Blanc grapes from Sonoma County. This wine has delicious aromas and flavors of pink grapefruit, lemongrass, lychee, peach, pear, honeydew melon, orange blossom, pineapple, guava and a touch of minerality. The Fumé Blanc has bright acidity and crisp freshness from the cool, stainless steel tank fermentation, while the subtle oak character from neutral French oak barrels adds body, complexity and depth. Read more…
2016 Chardonnay
This Chardonnay delights with aromas of pear, white peach, orange blossom, vanilla, graham cracker and buttercream, perfectly balanced by flavors of Fuji apple, cinnamon, apricot, quince and hazelnut. Lingering creamy and toasted oak notes round out the finish. Read more…
2014 Reserve Chardonnay
The grapes for this wine come primarily from Ferrari-Carano's vineyard in Napa Valley Carneros. This wine entices with aromas of baked apple, white peach, cinnamon, butterscotch, hazelnut and marshmallow complemented by elegant, upfront flavors of pear, fig, orange blossom, creamy vanilla, graham cracker and caramel toast on the finish. The cool climate of Napa Valley Carneros and Russian River Valley impart their unique finesse to the wine, while the Alexander Valley component adds an intensely rich mouth-filling character. Read more…
2014 Pinot Noir
A beautifully-balanced, ample and refined wine made with grapes from three distinctly different Mendocino County Pinot Noir vineyards. With its velvety texture and bright acidity, this SF Chronicle 2018 Gold medal winner is a perfect representation of the land from which it comes. Aromas and notes of cherry, raspberry, cola, spice and a touch of toast fill the senses, followed by vibrant flavors of complex red fruits and pomegranate with spice notes of cinnamon, cardamom and anise. Warm toast notes of graham cracker and pie crust persist on the soft finish. A velvety texture and bright acidity distinguish this naturally-balanced wine. Read more…
2015 SIENA
Ferrari‐Carano's Italian heritage is reflected in this 25th Anniversary SIENA, an easy‐sipping, Sangiovese‐based, red wine blend. SIENA has delicious aromas of raspberry jam, bacon, maple, leather and cardamom spice. Flavors of sweet plums and cherries are followed by graham cracker, with more plum on the finish. SIENA has supple tannins and a balanced mouthfeel with lively elegance and depth. Read more…