60 Days of Rosé | #03 | Swick Wines | Willamette Valley Rosé of Pinot Noir | $19.99
Today, ladies and gentlemen, we would like to introduce you to an intriguing rosé that will expand your palette and your mind, revealing layers that you may not have realized a rosé could have! Swick Wines' Rosé of Pinot Noir from Oregon's Willamette Valley is as natural as a wine can be, made with grapes that are gently hand-harvested and direct pressed into concrete eggs. It sings with zingy black cherry and raspberry, but finishes extra dry and sharp, with fresh clean acidity. Crack a bottle with a friend and a wedge of salty cheese, and ponder deep thoughts!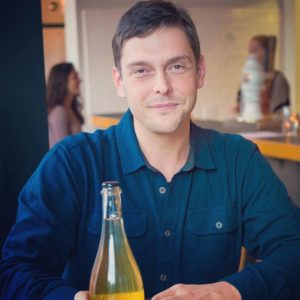 In addition to snagging Joe's rosé each year from our friends at Vermont Wine Merchants as soon as it comes in, we carry Swick Wines Malbec in our natural wine section year-round! A deep and brooding Washington Malbec, this wine displays a subtle nose, with elegant dark fruit emerging from its gentlemanly reserve.
Joe Swick is a 5th generation Oregonian, born and raised in Portland. He got into the wine business working as a shipping/receiving clerk working at a specialty organic food store in Portland, where he was able to taste a lot of different wines and meet a lot of Oregonian winemakers. He worked his first harvest in 2003 in Oregon, and from then until 2012 he worked 15 different harvests, traveling all over the world as far as Tasmania, France, Portugal, and Italy. Joe returned to Oregon in 2013 to start Swick Wines in the Willamette Valley. He works only with sustainable or organically farmed vineyards that are not irrigated, from cooler climate locations. Many of the wines have zero sulfur added.
Joe's wines tend to showcase the "fruit" aspect in a very subtle way, instead being more focused on minerality, salinity and freshness. Tannins are direct and firm without being harsh. Since Joe works with cold sites, alcohols are lower and acids are quite a bit higher than most wines from Oregon/Washington. Read more about Joe Swick's dedication to natural winemaking in Willamette Week and Edible Portland.
ABOUT THE 2017 SWICK ROSÉ OF PINOT NOIR:
Total Production: 1,800 bottles
Appellation: Willamette Valley
Age of Vines: 20 years
Soil: Alluvial and Basalt
Yield: 2 tons per acre
Vinification Method: Grapes are hand harvested and destemmed. The grapes are direct pressed into concrete eggs where the wine ferments for about 8 months. The wine is bottled unfined and unfiltered, with a small addition of sulfur.