Shelburne Vineyards Capsize Rosé and White Wine Cans – Free Tasting! FRI 5/18 3:30 – 6:30 pm
When the sun is out and you need cool, refreshing cans o' wine to accompany your outdoor fun, local winery Shelburne Vineyards has you covered!
Join rockstar winemaker Ethan Joseph on Friday, May 18 at the Beverage Warehouse for the Vermont launch of their brand-new CAPSIZE ROSÉ in cans! Grab your opportunity to taste this crispy fresh & fruity rosé for the first time, along with the smooth & refreshing cans of Capsize white blend.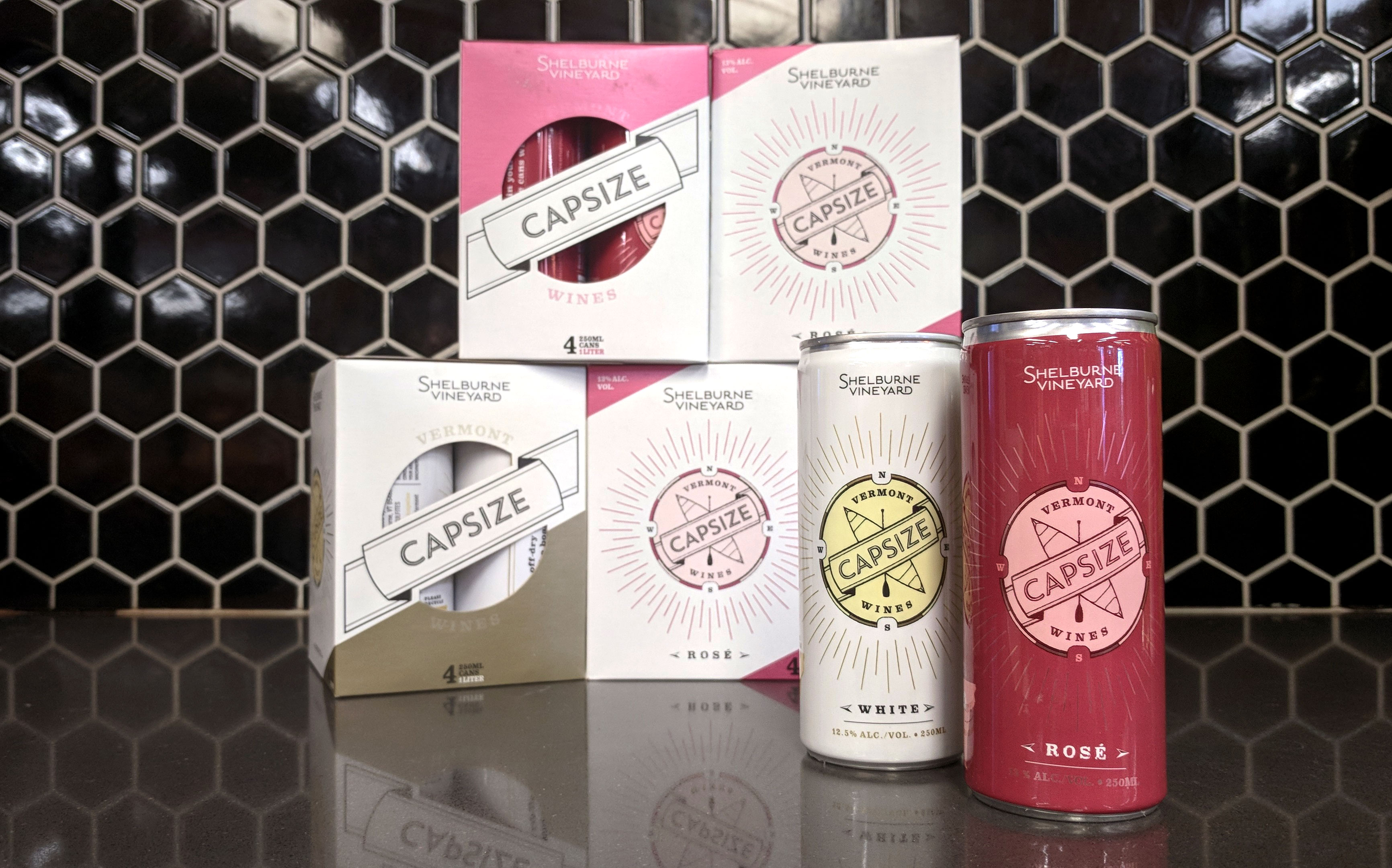 Be sure to follow the adventures of Capsize wines on Instagram!
From www.shelburnevineyard.com/capsize:
We're not knocking your candle-lit dinners or sliding into an Adirondack chair with your favorite bottle of wine on a warm summer night. Don't get us wrong, we love those things too.
But we're Vermonters, which means equal parts relaxing and roving. And it's clear that your favorite bottle of wine isn't following you to the top of Mt. Mansfield or rowing you out to the center of Lake Champlain.
Sustainably grown, damn good Vermont wine. Anywhere.
Where do Capsize Wines come from?
From the east bank of the Champlain Valley, on the sunny Shelburne slopes in the brave little state of Vermont. The grapes are grown and wines are crafted by the team at Shelburne Vineyard.
Why "Capsize"?
We're a wine for people who live life adventurously, who head out to the wild like true Vermonters. We also know that any excursion isn't much fun without a bit of controlled chaos. That's why our motto is "If you flip the boat, the cans will float". If you need a fun and refreshing break from your journey, we'll be there.
Is wine in a can as good as wine in a bottle?
We believe it is. It should theoretically be more stable than wine in a bottle, because there is virtually no risk of the wine developing a fault due to the lack of oxygen exchange that a cork allows.
How should I drink it?
Whatever the situation allows. If hiking a ridge trail, glasses are going to weigh you down. If relaxing on your back porch, pour it out. It tastes great either way!
The wines taste best when served icy cold.
What sort of wine is it?
It is comprised of two Hybrid varietals: Louise Swenson and LaCrescent. Louise gives the wine it's refreshing and bright characteristics. The LaCrescent gives it that distinct, delicious fruit aroma. All of the grapes that go into our wines are grown and hand-harvested in Vermont.
How much wine is in a can?
Each can is 250mL, which equals 8.5oz. That is almost two glasses of wine! Capsize is sold in 4-packs, and 4 cans equals 1 liter of wine. That is one and a third standard bottles!
Where can I get it?
Wherever Shelburne Vineyard wines are sold [like the Beverage Warehouse in Winooski, of course!].