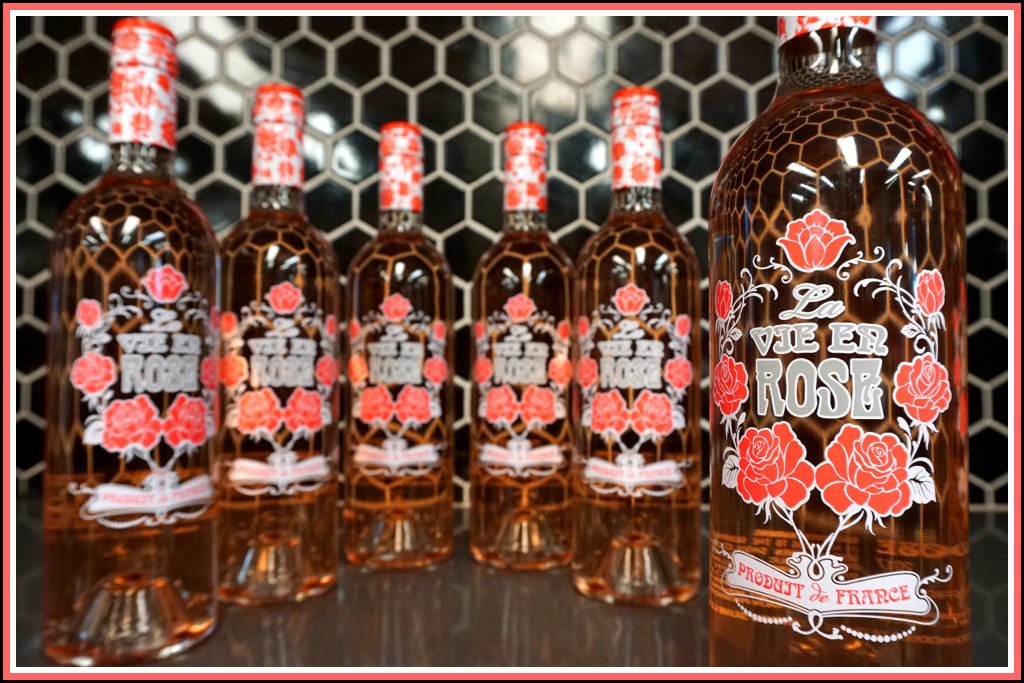 60 Days of Rosé | #04 | La Vie en Rosé | Pays d'Oc | Cinsault Rosé | 2017 | $9.99 (normally $12!)
Rolling in at number 4 during our 60 Days of Rosé is La Vie en Rosé – a wine we like so much, that every year, we snag stacks of it!
La Vie en Rosé fires on many cylinders:
Delicious, approachable, and crowd friendly
Drink by itself or with a BLT, fried chicken, Waldorf-style salads, fresh cheese, quinoa salad, Ratatouille, berry cobbler or pie… La Vie en Rosé is quite versatile
Easy to get into – unscrew the cap and enjoy!
Flowery, romantic label – we sell a lot for weddings
On sale for $9.99 (normally $11.99)
Enjoy this delightful rosé  today!
Read about Pays d'Oc:
content from www.paysdoc-wines.com
Cinsault: a delicacy
This grape variety is the ultimate Pays d'Oc rosé wines par excellence! It produces fresh wines with a pronounced taste of strawberry and rose petal, becoming slightly tile-red when assembled with Grenache where the rosé takes on its roundness.
Pays d'Oc grape varieties
Pays d'Oc wines are fruity and new, elegant and modern or refined and contemporary. They are perfect for every occasion, fulfil every desire and are ideal for every table. They have a well-defined French character, bathed in sunshine and the Mediterranean, which makes them easily recognisable.
Excellent value for money, Pays d'Oc wines are resolutely appealing.
Pays d'Oc: IGP – Protected Geographical Indication – a quality label
Pays d'Oc IGP is attributed to a wine that is exclusively produced in the Languedoc-Roussillon and has been accepted for approval by the Pays d'Oc Wine Producers Union. The label is awarded to wines that meet strict production quality criteria. The wine must also display typical Pays d'Oc characteristics. 92% of all Pays d'Oc IGP wines are varietal wines.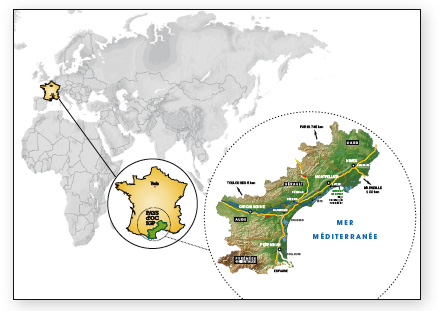 Between Land and Sea
The Pays d'Oc territory winds along the Mediterranean Sea, weaving itself along 4 departments in the Languedoc-Roussillon : Pyrénées-Orientales, Aude, Hérault and the Gard. The Pays d'Oc boasts 200 km of beaches and vast expanses of vineyards bathed by the sun.  A rich and natural combination of steep slopes, hilly peaks, vineyards, garrigue vegetation and the sea, the Pays d'Oc territory is embraced by its Mediterranean climate that comfortably enfolds the vines with its dry and windswept soils.
Having always embraced the vine, Pays d'Oc has adapted its vineyard and adopted grape varieties from different regions in France.  These grapes have embraced the Pays d'Oc and taken on the region's charm.
The terroir effect
The terroir effect is noticeable upon tasting wines from the different Pays d'oc zones.  The Languedoc-Roussillon's wealth of diverse soils and climates are exemplified by its *** terroirs. As grapes embrace the land from which they are grown, the grape varieties express themselves differently depending on the climate, exposure, relief, and soils. Pays d'Oc's patchwork of wine-growing areas creates an expression of these grape varieties that is unique.
Pays d'Oc men and women
In the Pays d'Oc, mankind and vineyards tell one of the most beautiful stories of life and passion. Throughout the centuries and eras, passion for wine has always stayed alive.  Despite all the ups and downs of history, it remains, more than ever, connected to its territory. Over the past 30 years, the men and women from Pays d'Oc have understood the importance of adapting regional viticulture to economic and regulatory changes. Their heartfelt commitment to the regional viticulture tradition has created a strong motivation towards optimising the use of the vineyards. Using a savoir-faire passed down through the centuries, they create high-quality wines that reflect Pays d'Oc's typicity.
As a result, Pays d'Oc wines embody wine growers' passion and commitment and reflect the producers' ability to combine tradition and modernity.