30 Days of Rosé | #21 | Fess Parker | Pinot Noir Rosé | 2016 | Santa Rita Hills | California | $16.99 sale!
We are most pleased to highlight the Fess Parker Rosé during our cheery and delicious Rosé promotions!
Pinot Noir Rosé is one of the more broadly recognizable varietals, and the award winning wine crafters over at Fess Parker have done a superb job.
In an age where family run business are frequently turning over their business to large corporations, not only does it feel good to support this multi-generational family endeavor… but it'll make your visceral senses feel good as well!
From fessparker.com:
Description:
Our Pinot Noir Rose is always a crowd pleaser!  The perfect Spring and Summer wine this light-bodied, refreshing wine is perfect served with charcuterie, grilled salmon or pork tenderloin, but can certainly be enjoyed on it's own.
Tasting Notes:
Color:  Light salmon hue
Aromas:  Rose petal, guava, ginger, cherry, wild strawberry
Flavors:  Watermelon, cranberry, Bing cherry, passion fruit, blood orange
Aging:  88% stainless steel & 22% barrel fermented and aged for 5 months in neutral French oak
Production Notes:  592 cases
Vineyard Notes:  57% Parker West Vineyard, 22% Rio Vista Vineyard, 13% Ashley's Vineyard, 8% Fiddlestix Vineyard all located within the Sta. Rita Hills Appellation
Our Family
When Fess Parker was cast in the role of Davy Crockett in the mid-1950's, it caused an international sensation and changed his life forever. So too did the purchase of 714 acres in the Santa Ynez Valley change the course of the Parker family's history.
Realizing the potential of Santa Barbara County as a premium grape-growing region, Fess and his son, Eli, originally set out in 1989 to plant a small vineyard and sell fruit to local producers. But, as Fess' daughter, Ashley explains, " Fess is from Texas, so he can't do anything small. "The Fess Parker Winery and Vineyard now farms almost 700 acres on four vineyards throughout Santa Barbara County.
The characters Fess portrayed, Davy Crockett and Daniel Boone, inspired generations of Americans. Throughout the late 1950's and 1960's Fess was at the pinnacle of a television career that has an unprecedented impact upon American popular culture. But it was Fess' entrepreneurial spirit that prompted his leaving Hollywood to go into business for himself. The traits that Crockett and Boone embodied – integrity, resourcefulness and good humor — carried over to Fess' personal life and formed the foundation upon which the family business was built. First-class hospitality has always been at the core of their ventures, first as hoteliers and eventually with the opening of the winery.
Working as a family has always been a great source of pride and pleasure for the Parker family. Eli Parker began in the family business as assistant winemaker in 1989. After several years of learning the craft at the side of renowned and accomplished winemakers, Eli took the reigns as winemaker himself with the 1995 vintage. A leader of the winery since its inception, it was in 1996 that Eli formally assumed the title and responsibilities of President. In the early 1990's, Ashley ran the first tastings out of the barrel room and represented the winery at trade shows. In 1998, Ashley became Eli's partner, working on the public relations and sales and marketing teams. The presence of Fess and his wife Marcy as the founding visionaries of the winery is a vital and enduring one.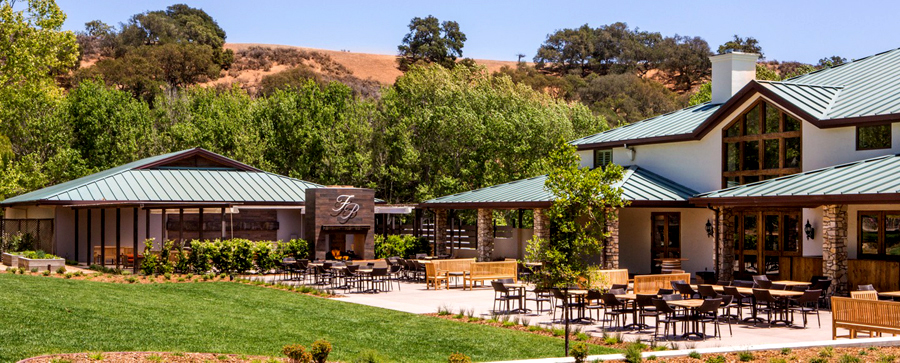 Our Story
Driving north along the pastoral Foxen Canyon Wine Trail feels like traveling back to California's early days. Rolling hills frame vast meadows, deer and wildlife roam free, and pristine landscapes stretch as far as the eye can see. This peaceful environment enticed the late Fess Parker into buying a 714-acre ranch here back in 1988. The Texas-born actor, who played the television roles of Davy Crockett and Daniel Boone in the 1950s and 1960s, had moved his family to Santa Barbara in the early 1960s and begun construction of a blufftop home. When heavy rains caused it to collapse onto the beach, he revised his plans and headed inland.
There, he discovered the Foxen Canyon property, where he initially planned to run cattle, plant a few grapes to sell to other vintners, and establish a small winery. Parker, an only child, dreamed of starting a family business that he could pass on to future generations. He asked his children to join him, and they planted a five-acre experimental Riesling vineyard in 1989. Eli, his son, started as assistant winemaker and spent three years under the tutelage of acclaimed enologist Jed Steele before taking the helm. Eli then planted more vines and started a four-year project to build a cutting-edge winery and tasting room.
Eli Parker and his sister Ashley continue to stay involved as stewards of the family's vision for the winery while Ashley's husband Tim Snider serves as President and oversees day-to-day operations. The family's vineyard is the 120-acre Rodney's Vineyard, named after Fess Parker's late son-in-law, at the 400-acre Foxen Canyon Road estate where the winery is located. They also source grapes from Camp Four vineyard in the heart of the Santa Ynez Valley, which Parker planted in 1998 as well as vineyards in the cooler Sta. Rita Hills and Santa Maria Valley appellations. Blair Fox assumed the role of head winemaker in 2005. In recent years, the winery has sharpened its focus to produce more small-lot, vineyard-designated wines made from high-quality Rhone and Burgundian varietals, which have won awards in national wine competitions.
click here to continue reading…