30 Days of Rosé | #12 | Effusion | Moussé Fils | Champagne Rosé | 2016 | $47.99
We sift through well over 1,000 wines a year to pluck the best to share with you – it's hard work!
We have an extensive selection of sparkling Rosé and were not looking at all to add another one, especially if it would retail at over $500 a case.
Moussé Fils whipped our heads around, sent us into a tizzy, and we HAD to have it.
We mulled over dozens  of reasons to not buy it, head, heart, and palate battled – our visceral senses won over our brains because Moussé Fils was too delicious to not bring in.
With only a couple exceptions, we'd rather drink this any other sparking wine we've ever had under $150 which is saying a lot considering everything we've had over the years.
Skip the big commercial brands, and grab a bottle of Moussé Fils for brunch, special celebration or casual occasion.. or hint hint nudge nudge… the next time you want delight your partner (or treat yourself – we know you deserve it!).
At $47.99, Moussé Fils punches twice above it's weight class for flavor and pleasure.  To say the least, this one is a stunner.
It's hard not to be too enthusiastic about this wine. We'll stop talking and let you explore it.
In case you didn't notice, we plainly hardcore ♥ Effusion Moussé Fils Champagne Rosé.
You'll find Champagne Moussé Fils in the heart of the Marne River valley in the village of Cuisles where, since 1923, perfecting the art of growing Meunier and bringing it to the peak of its potential has been the guiding principle of everything we do.
Our vineyards are spread out across 4 different villages yet all of them are on the same hillside; an unusual characteristic that is reflected in all of our champagnes.
Our family has been making champagne for 4 generations now and we've been growing vines from as long ago as 1750 so you can understand why we attach so much importance to looking after the environment. We want to ensure that our champagnes reflect all the character and personality of our vineyards and to achieve that we pay the most scrupulous attention to each stage of the wine making to ensure that everything is done as naturally as possible.
Our Principles
Use of the natural light
No chemical weeding
We use plants to protect other plants
Horse ploughing
Wood diseases treatment with perfusions of essential oils
We use the latest light-weight bottles to reduce CO2 emissions
Much of our water comes from natural springs
When old vines are dug up they are used for household heating
The cellars are temperature controlled using a soil-air heat exchanger
Protecting the vines and taking care of the environment
Each building produces its own hot water from solar panels
Chilling of the wine in a natural way
Planting seeds following the moon's cycle
Tractor's decontamination in a specialized washing station
Growing grass in the vines in Autumn to improve soil quality
Mirror-finished tank to save water
Self-sufficient in electricity
Eco-conceived storehouse
« We do not inherit the earth from our parents,
we borrow it from our children ». – Antoine de Saint-Exupéry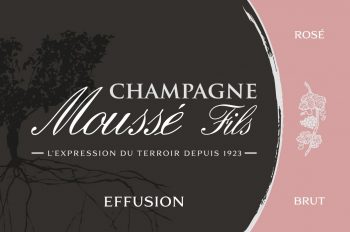 Moussé Fils | Champagne Rosé | 2016
Cépage:  92% Meunier 8% Pinot Noir
Assemblage:  Blend of solera 2003-2014 and 12% red Wine from Meunier
Info/Source:  Sourced from vineyards in Cuisles, Jonquery, Châtillon-sur-Marne and Olizy.
Vines:  25 years old on average.
Malo:  Yes
Elevage:  Oak and stainless steel tank
Sur Lees:  16 months
Region:  Champagne
Appellation:  Vallee de la Marne
Color:  Rosé
Farming Practice:  Practicing Organic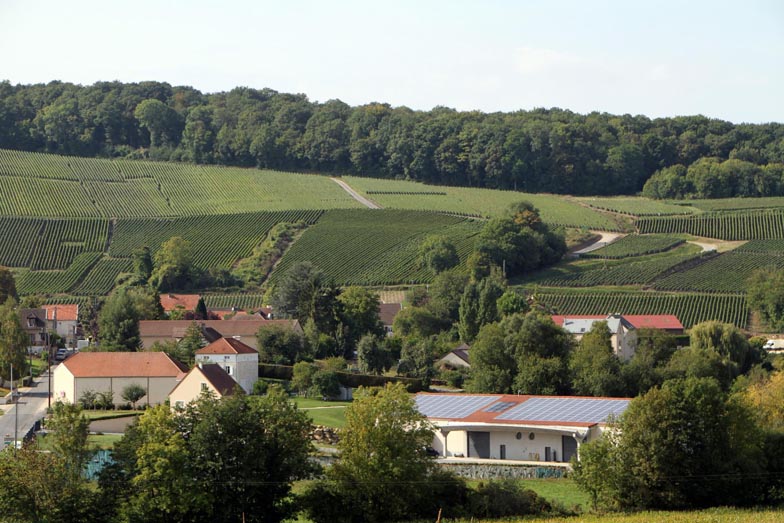 What are the origins of Meunier?
It's a more rustic variation of its genetic parent Pinot Noir and was called Meunier, without the word Pinot, so as to avoid confusion between the two.
Where does the name Meunier come from?
According to reference books about grape vines it seems that the name comes from the characteristic, soft, white coating on the leaves that makes them look as though they've been covered in flour, hence the name Meunier which means Miller in English.
These days Meunier has a good reputation, but that hasn't always been the case. Why is that?
Meunier was often disparaged when used on its own and for years it was shunned by the big champagne houses. It was only Henri Krug who sang its praises. In the 1970s there was even a premium paid for what were called 'Noble Grapes' but it applied only to Chardonnay and Pinot Noir.
Fortunately, for the past few years, Meunier has been regaining its reputation and today it's considered to be the perfect varietal for blending. You only have to look at the great Meunier champagnes of René Collard to see the truth of this.
Why is Meunier the preferred varietal at Champagne Moussé Fils ?
Our family has been growing Meunier for 12 generations and every generation has believed in its vast potential. I wanted to give Meunier the respect it deserves and to show lovers of fine champagne that Meunier can produce wines of the utmost finesse. Our motto "Deeply Meunier" is the perfect illustration of that ambition and the perfect reflection of our wines: fine, elegant, and fruity.
– Cédric Moussé