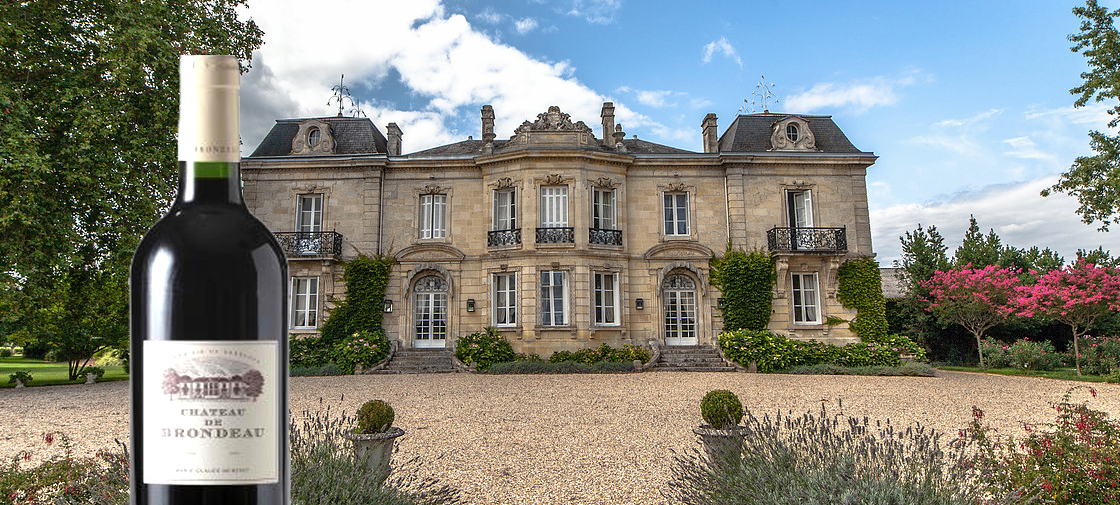 Chateau de Brondeau – Bordeaux Supérieur 2012 | Vin extraordinaire for $19.99
For more than a century, Château de Brondeau belonged to the Audy family, and Marie-Claude Audy, wife of Bordeaux wine merchant Dominique Méneret, inherited the estate in 2001. In 2011, the property was sold to Mr. Francis Vuile, a former AOC Cognac producer. Sitting on the banks of the Dordogne River, the estate is nestled in a jewel box of groves that seem to watch over the 32 acres (13 hectares) of vines.
The vineyard is in close proximity to the production facilities and the home. The site is densely planted – 2,400 vines/acre, or 6,000 vines/ha – on alluvial soils, with 80% Merlot and 20% Cabernet Franc. The vineyard is trained traditionally with selective grassing over to retain the richness of the terroir.
Winemaking Philosophy:
The grapes are sorted before transfer into cement vats adapted to the size of individual vineyard parcels, all equipped with an effective temperature control system. During fermentation, the cellar master performs several small daily pump-overs, and macerations do not exceed 20 days. When the wine is run off, multiple tastings enable the isolation of several separate lots. The wine is aged for approximately 15 months in vat using French oak staves. This preserves the freshness of its fruit and does not allow wood notes to overpower the wine. Blending takes place several months before bottling, which generally happens more or less in early spring, depending on the vintage, after fining and a light filtering.
Wine Description:
Château de Brondeau hugs the Dordogne river, nestled in a jewel box of groves overlooking 22  rolling acres of estate vineyards. The Château de Brondeau Bordeaux displays consistent quality  year after year; a wine that offers characteristic freshness, silkiness and balance.  Manually harvested and fermented in cement tanks, this Bordeaux requires 12 months of aging before bottling. The wonderful presentation and attractive price make this an excellent value for any lover of Bordeaux.
Tasting Notes:
Deep ruby in color, the Château de Brondeau Bordeaux is clear and fresh with a dense, expressive nose. Round and fleshy on the palate with flavors of fresh red fruit and chocolate, it offers excellent balance with a long, lasting finish.
Analytical Data:
Vineyard name:   Château de Brondeau
Vineyard size:  23 acres
Soil composition:  Clay, Silt, Sand, and Gravel
Elevation:  8 feet
Vines/acre:  2,400
Yield/acre:  0.2 tons
Harvest time:  Early October
Bottles produced of this wine:  48,000
Varietal composition:  100% Merlot
Fermentation container:  concrete
Maceration technique:  Pumpovers
Length of maceration:  21 days days
Malolactic fermentation:  Yes
Type of aging container:  Cement vats
Length of aging before bottling:  12 months
Alcohol:  14.5 %
Residual sugar:  0.4 g/L
Acidity:  3.5 g/L
Dry extract:   19.0 g/L