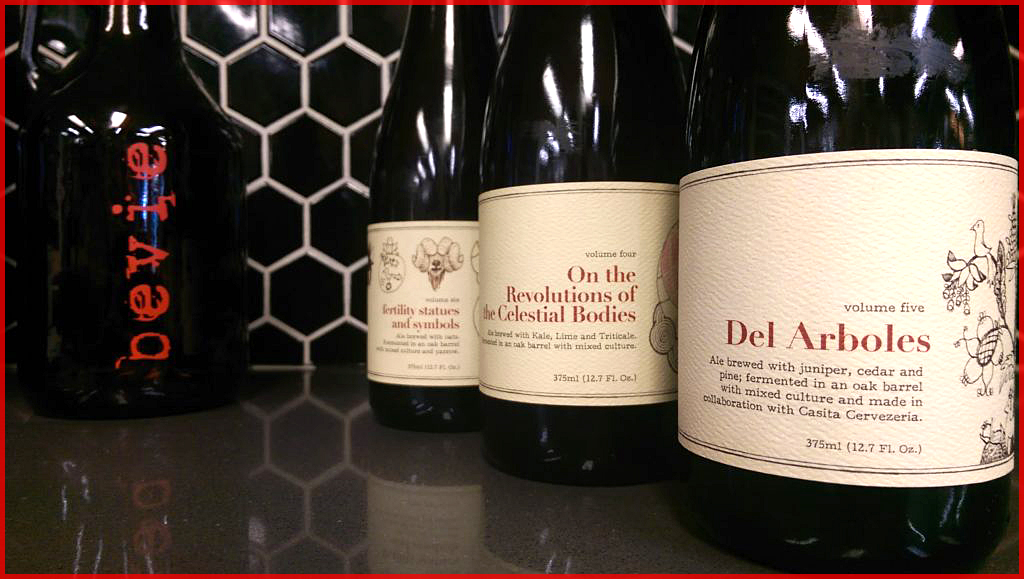 Current Wunderkammer beer offerings as of 20-SEP-17:
Volume Four | On the Revolutions of the Celestial Bodies | Wunderkammer Bier | $9.99 | 375ml | Ale brewed with kale, lime, and triticale.  Fermented in an oak barrel with mixed culture.
Volume Five | Del Arboles | Wunderkammer Bier | $9.99 | 375ml | Ale brewed with juniper, cedar, and pine; fermented in an oak barrel with mixed culture and made in collaboration with Casita Cerveceria,
Volume Six | Fertility Status and Symbols | Wunderkammer Bier | $9.99 | 375ml | Ale brewed with oats.  Fermented in an oak barrel with mixed cultures and yarrow.
From Vasili:
Volume Five- Del Arboles
This is a re-brew of a collaboration beer I did with Casita Cerveceria, aka, Ryan Witter. Though it is the first time it's offered under the Wunderkammer Bier label.
Like all WK beers so far, it is fermented in the puncheons with mixed culture. We were shooting for an interpretation of a Viking beer, a northern style rustic beer called 'Gotlandsdricka', which is a beer from Gotland, an island off the coast of Sweden. These beers are brewed using Juniper branches as a Lautering device, to separate the mash from the wort, and as a result has a distinct juniper flavor. Also some smokiness from the way the malt was dried, over fire.
Our version used bags full of Juniper, courtesy of Bob Montgomery, as well as cedar and pine I harvested from around my home. We infused the brewing liquor with it over night and then put the branches in the Lauter Tun and put the mash, which contains some smoked malt, on top. We fermented, in part, with Kveik, a Norwegian farmhouse ale strain, which produces candied orange and spice flavors.
The result is a dark honey gold colored ale with conifers and orange marmalade, big bright citrus resin and spicy wood character in the aroma and flavor. There is a balanced tartness, followed by a brief kiss of an almost menthol or vaporous nature. It's really pretty unique, in my opinion.
The name 'Del Arboles' means 'of the trees' in Spanish. Ryan's beers all had Spanish names, as you may recall. BTW, I spelled Cerveceria incorrectly on the label, but Ryan didn't notice either! The picture is styled after some samples of embroidery from the Pennsylvania Dutch. Fantasy pastoral scenes of trees that grow many different fruits and flowers. I love their stuff.
Volume Six – Fertility Statues and Symbols
This beer was brewed with a mash that contained raw and rolled oats. It was fermented with a brettanomyces blend, as well as the yeast used in volume five, Kviek (Norwegian Farmhouse). after fermentation, the beer was conditioned, much like how we dry-hop, with yarrow, an ancient brewing herb.
I harvested it all in Greensboro, Craftsbury and North Wolcott. It grows all around here in sunny sandy soils, like on the side of the road, driveways, quarries hill sides or other sandy landscapes. It has tight flower clusters of many dozen flowers, and feathery leaves. The flowers are bright and resinous, well represented in this beer.
I have been brewing with yarrow for a while and have really come to love its bright, herbal character. It reminds me of a subtle yet snappy ginger flavor. This beer is pretty fun to roll it around in your mouth.
The label name and design comes from my deep appreciation for the creation myths and power symbols of different cultures, ancient and contemporary, around the world. Objects imbued with emotion and divine invocation.
The manifestations of raw and creative passion in the universe. To me, these pictures depict fertility is as a divine force of nature, to be called upon, focused on, in prayer and meditation. I have always loved finding these objects in archeological exhibits.
The Pre-Columbian, ancient Greek, Classic Indian, various African examples I have seen all have inspired me to sketch these themes and images. A hairy, horned fertility idol, especially as bull, is a popular theme as well as the voluptuous, pregnant or birthing female.
I was thinking about yarrow, and how it use to be an important herb, like so many others, in our lives, as medicines or food or both. I originally wanted to make the title having to do with how the symbols and stories of older religions are appropriated and re-constructed to fit into a new religious narrative. Trying to create my own parallel between hops being the ubiquitous 'spice' or herb in beer, and yarrow being a fossil of the past. Instead, I decided to be more positive and focus on yarrow's power, rebirth and re-emergence.
Wunderkammer Bier
403 Hill Road
Greensboro Bend, VT
05842