Éphémère Sureau – Elderberry Ale | Unibroue | 5.5% ABV | $10.39/6pk (plus tax/dep.)
Every year, we look forward to the seasonal Éphémère variant from Unibroue.  The 2017 Éphémère is Sureau (Elderberry) which is a flavor Vermonters should positively respond to.
Think of the dark and tart Elderberry as a cousin to the Black Currant – an extraordinarily popular berry grown in Vermont and found in preserves, liquors, syrup, and other products throughout our great state.
Éphémère Sureau is a happy, refreshing, bright ale with a nice little bit of tartness to give lift the body.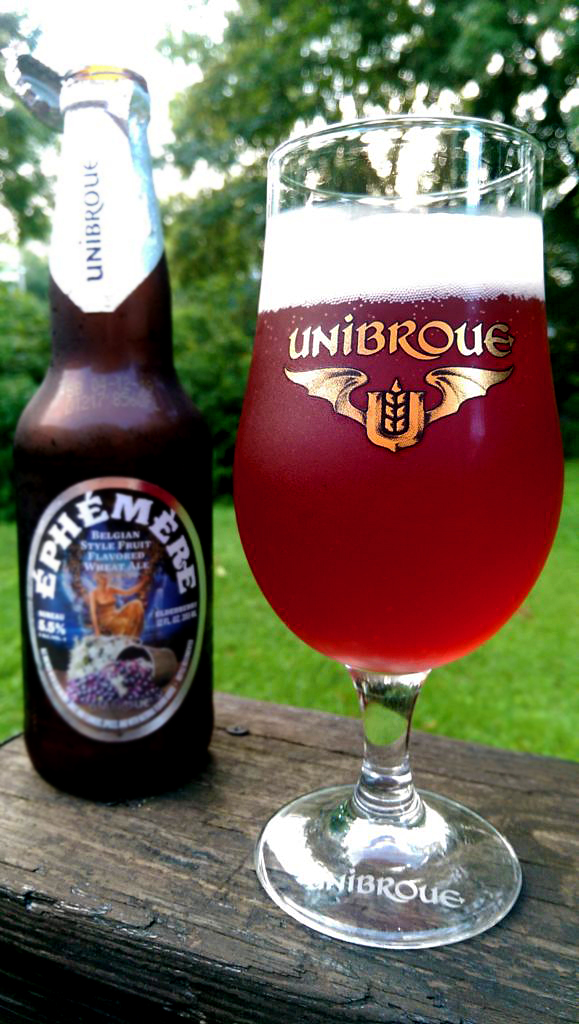 Do you enjoy a Champagne cocktail with Chambord Liqueur and/or St. Germain Liqueur for brunch?  If so, serve Éphémère next time.  The Éphémère series is a perfect beer for brunch as it pairs well with tangy dairy foods like fresh chevre, yogurt, in addition to crepes, pancakes, and waffles with whipped cream and berries.
Perfect for those hot days, Éphémère Sureau pairs well with summer fare such as: vinaigrette mesclun salad, grilled swordfish, green curry, and coconut tofu.  For desert, pair with cheesecake, coconut macaroons, parfait, and strawberry shortcake.
If you want to cool down fast, have an Éphémère Sureau in one hand, Creemee in the other, and enjoy the cooling berry flavors.
Once Éphémère Sureau is gone, it is gone for the year so grab yours before they are no longer around.
Santé!
From unibroue.com:
Éphémère Sureau – The newest addition to the Éphémère beer family. It is brewed with a balanced combination of the elder's fruit and flowers.
Éphémère is an ephemeral ale that comes and goes with the seasons.  It was developed as a series to feature seasonal fruit in a refreshing, lightly spiced white ale.  The label depicts a fairy, an ephemeral spirit associated with fruits picked at the peak ripeness during each harvest season.
Éphémère Elderberry is brewed using a combination of the elder fruit and flowers.  While it bears a beautiful, pinkish head and ruby color, Éphémère Elderberry also offers an explosion of berry flavors along with subtle floral notes and hints of tropical fruit reminiscent of the Muscats powerful bouquet.
Brewed Since: 2017
Origin: Chambly, Quebec
ALC./VOL: 5.5%
Fermentation:  Top
Style:  White Ale brewed with fruit
Color:  Ruby
SRM:  10
Clarity:  Slightly cloudy
Head:  Pinkish
Bubbles:  Medium
Effervescence:  Medium and sustained
IBU:  6
Body:  Thin
Aftertaste:  Medium
Bottle Refermented
Food Paring:  Pork Loin, grilled chicken, snapper, fish and chips, rillette, berry dressing, goat cheese, brie, and camembert