30 Days of Rosé | #08 | Domaine de la Mordorée | La Dame Rousse | Tavel Rosé | 2016 | $27.99
Explore the history and terroir of Tavel with one of the more prestigious Rosé wines we have in our liquid arsenal!
La Dame Rousse:
Appellation : Tavel
Cuvée : Dame Rousse
Colour : Rosé
Vintage : 2016
Surface : 9 Ha.
Grapes :
~  Grenache : 60 %
~  Cinsault : 10 %
~  Syrah : 10 %
~  Mourvèdre : 10%
~  Clairette : 5%
~  Bourboulenc : 5 %
Vineyard Age : 40 ans
Terroir : mix of 3 terroirs : galets roulés (big pebble stones) lauzes (flat limestones) and mostly sandy
Harvest : by hand with sorting
Vinification : 100% destemmed, 36 to 48 h cold maceration.
Tasting
Hue : rose with blueish glares
Aromas : very fruity (strawberries cherry, red gooseberry, pink grapefuit and tangerine) and floral, delicates, of ancient roses
Mouth : rounded, well balanced and fresh
Pairings : fishes, seafood, white meat,
duck, oriental and asiatic dishes

The Domaine
Ideally located at the crossroads of Provence and Languedoc, the Domaine de la Mordorée produces some of the greatest vintages of the Rhone Valley : Châteauneuf du Pape, Lirac, Tavel.
Our philosophy has always been to produce the greatest wines possible. To achieve this goal we have selected the best parcels of land, the highest grade grapes and developed environmental friendly wine growing methods. The vinification and maturation of our wines combine both tradition and modernity.
The fruits of our efforts were quickly rewarded with prizes, in the Paris Agricultural Fair as well as other fairs where we have won over 160 medals since 1985. The specialized press and the greatest wine reviewers, like the Revue du Vin de France, Wine Spectator, or Parker have acknowledged and praised the quality of our wines.
The Mediterranean area granted us a climate and beauty which are exceptionally favourable to tourism. The whole environment appeals to discovering a unique wealth of landscapes and culture : Avignon, Arles, Nîmes, the Camargue, the Pont du Gard, the Luberon, and the Cevennes are minutes away, offering easy and boundless access to gastronomy, culture, nature or architectural heritage.
This outstanding environment naturally inspired us for the name of our Domaine : the Mordorée is the poetic nickname used locally for the woodcock that flies over our lands during its migrations.
« The end never justifies the means »
We strongly believe the way used to obtain a result is at least as important as the achievement itself. Of course, we aim towards the highest possible quality, but not at any cost : a result alone would by no means suffice.
Our code of ethics is profoundly based on respecting the gifts of nature through our soils and landscapes. This code of ethics is consequently applied to all the stages of production, ensuring that future generations may live in harmony with our heritage. We are but passers-by on Earth, our presence is ephemeral and we are not here to exhaust our resources but to develop our land's riches.
Our actions are thus continuously guided by environmental awareness. This philosophy has guided us for 15 years. Our efforts have been particularly forceful over the past 5 years, seeking to support tradition with innovative solutions. The key word of this approach, both in definition and spirit, is respect.
Respect for nature, respect for man, respect for our customers and respect for our pledge.
These inviolable rules are the very basis of our estate : the rules that steer our concepts and actions today, and that we hope shall show the way tomorrow.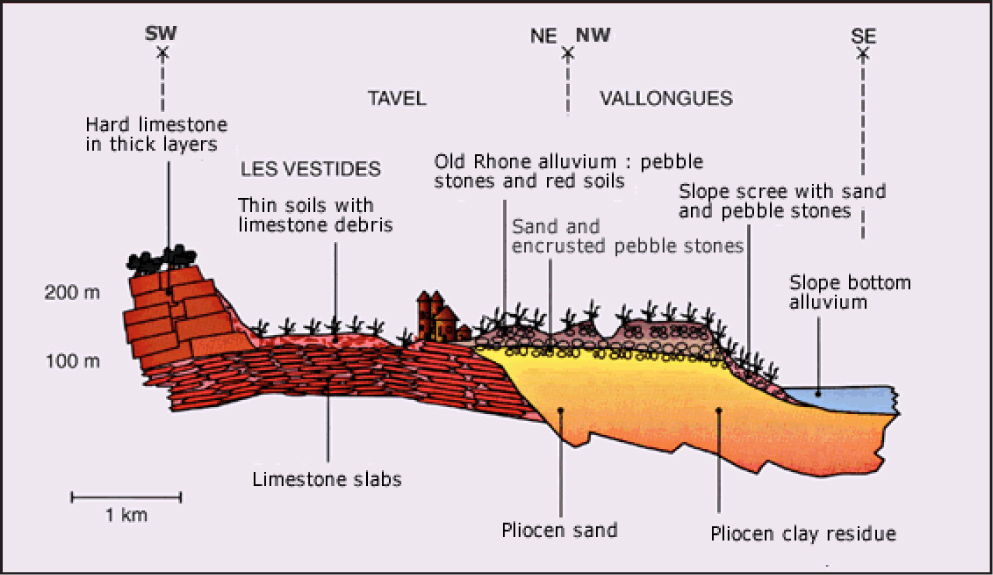 There are three main soil types in the lands of Tavel :
Quartz round pebbles on the villafranchienne terrace : Vallongue.
Flat lime stones originating from the Barremien crumbled hill-stones : Campey, la Vaute, Romagnac, Torette, la Vau et Clos, Les Vestides, les Comeyres, Vaussières.
Astien fluvial sands : Vaucrose, Vaucrose et Vacquières, Genestière, Codoyères, Le Palai, Roquaute, Bouvette, Olivet.
Some parcels have mixed subsoils, as in Cravailleux, where round pebbles and flat stones can be found as well as Astien fluvial sands and pebbles.
The soils are mostly poor in humus and organic matter, making Tavel an ideal land for winegrowing.
Pebbles and stones have a definite effect on the vines : Barremian flat stones are whitish and tend to reflect most sunrays during the day, activating the maturation of the berries. As for Villafanchian pebbles, they accumulate heat during the day that they release during the night.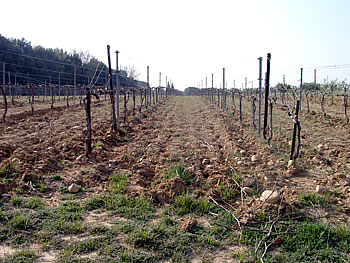 The climate in Tavel can vary considerably depending on the spot; there can easily be a 2° Celsius difference between the east and west of the lands, like on the Vallongue plateau, more exposed to the cold Mistral, and Campey or Romagnac. What happens is some plots can be frozen while others aren't, resulting in a different stage of maturity during the wine harvest, by a few degrees. Generally speaking, we have over 200 days of sunshine per year with average temperatures at 22°Celsius in summer, and 7.3° Celsius in winter. Rainfalls average 201 mm in summer and 503 mm the rest of the year. As for the Mistral, it blows on average 158 days per year out of which more than 100 days at 60km per hour. Sometimes, as was the case in May 2000, the winds can blow at over 100 km per hour, for over a week.

Grape varieties
The grapes authorized in Tavel AOC (Appelation d'Origine Contrôlée) are the following :
Grenache, Cinsault, Clairette white and pink, Picpoul, Calitor (out of fashion : there are only a few dozens of vines left), Bourboulenc, Mourvèdre, Syrah and Carignan.None these grapes must exceed 60 % of a vineyard's total, and Carignan must not exceed 10%.
The Tavel appellation vines exploited by the Domaine de la Mordorée are located on the plateau of Vallongue, at Palai, Roquaute, and Romagnac ; their composition is as follows : Grenache 60 % , Mourvèdre, Syrah and Cinsault 10%, Bourboulenc and Clairette 5%.
Plot in AOC Tavel, this area is called Vallongue West
Plot in AOC Tavel, an harmonious mix of sand and clay, planted with 8 years old Syrah.
The wines produced here are rounded and fruity.
To be noticed : one can see some pebble stones coming from the Vallongue plateau located on the left of this picture.
HISTORY OF TAVEL
Tavel has always been the land of vines and winegrowers: the remains of a Roman-time cellar were found in Tavel, still containing great amounts of grape pips, proving the importance of the wine industry at that time.
The reputation of Tavel is centuries-old: Ronsard, Philippe le Bel, the Popes of Avignon, François 1er and Louis XIV loved and praised this wine for its qualities. A quality that winegrowers have always sustained forcefully through the ages; thus, on the 8 April 1716 the consuls of Tavel asked that authorities forbid any wild import of grapes that would harm the reputation of Tavel wine. Then, on 10 September 1737, a royal decree authorized Tavel to be part of those villages to bear the CDR (Côte du Rhône) seal on its barrels, a seal which was the first to define an appellation covering several districts.
In those days vineyards covered 375 hectares in Tavel and were the main source of income for the village of about 200 families. A great period of expansion followed, and in 1819 the Vineyard reached 721 hectares. But then, the phylloxera disease almost destroyed the whole vineyard: from 800 hectares in 1868, the vineyard dropped to 50 sickly, and barely exploitable hectares, in 1870. The village population itself dropped from 1314 inhabitants before the phylloxera 611 inhabitants in 1931.
Villagers tried to diversify their activities: raising silkworms, making olive oil, small-scale agriculture or, in some cases, trying to get hired in the surrounding phosphate mines. Hopefully, this only lasted a few years, and by 1887 Tavel winegrowers once again believed in their vineyards.
1887 was the year when the first American stumps were bought and transplanted in Tavel: they represented the only efficient response to the phylloxera plague [3]. By 1914, the Vineyard reached 195 hectares, then 260 in 1926 and 960 today. The energy developed by winegrowers can still be found today in the defense of Tavel wines, its reputation and lands of production. In 1902, an association was created grouping owner winegrowers in Tavel to protect the wines of Tavel, to preserve its genuineness and typical character. In 1928, this association started a long struggle to obtain an appellation that would define the vineyard lands of Tavel; in 1936 Tavel was one of the first wines to obtain the AOC acknowledgment.
Nowadays, most inhabitants of Tavel perpetrate their efforts for better quality, trying to use as few pesticides as possible to preserve the health of man and environment: Tavel is among the first pioneer villages to have developed reasoned agriculture [3].
Today, Tavel wines are found in all the wine menus of restaurants that have obtained three stars in the famous Michelin guide. Tavel wines export well and are found on all the tables of wine connoisseurs throughout the world.