Ethereal growler bar updates to brighten your day and delight your senses featuring an uber delicious peach Berliner Weisse and a steady flow of VT-goodness!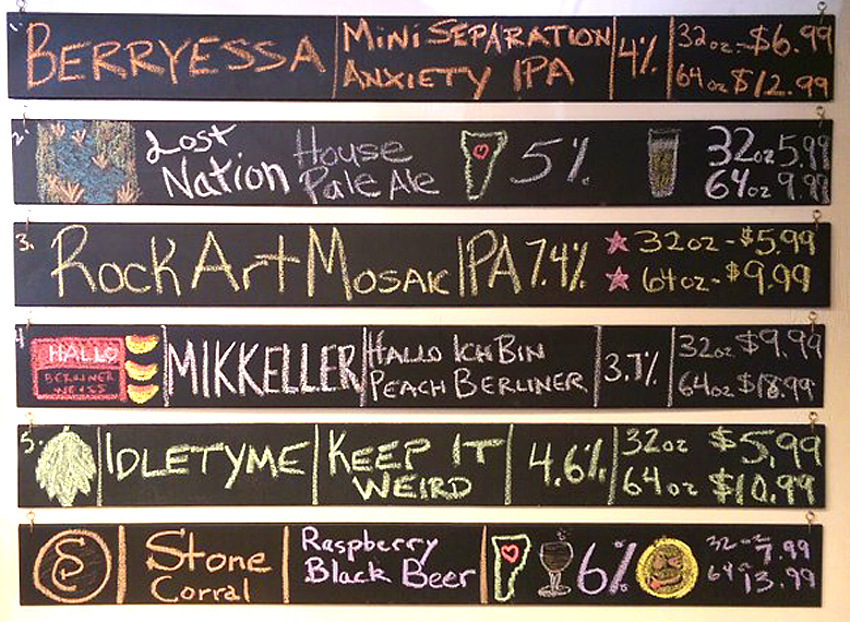 Stay tuned and thirsty…
a VT beer YOU'VE NEVER HAD BEFORE will be landing soon!
Barryessa Mini Separation Anxiety Session IPA | 4% ABV | $12.99 64oz / $6.99 32oz – Draft only!
Lost Nation House Pale | 5% ABV | $9.99 64oz / $5.99 32oz – A craveable, fresh and local pale ale from our friends at Lost Nation – Draft Only, No Cans Available!
Rock Art Mosaic IPA | 7.4% ABV | $8.99 64oz / $4.99 32oz – Fresh Mosaic IPA from our friends at Rock Art! Not available in bottles or cans – just kegs!
Mikkeller Hallo Ich Bin Peach Berliner Weisse PEACH | 3.7% ABV | $18.99 64oz / $9.99 32oz – Peach Berliner Weisse beer!!  You may remember how fast the cans flew out of our store, get your paws on a refreshing Bevie Growler whilst you are able!  Cans sold out, draft now only available!
Idletyme Keep It Weird  | Four Fruit Sour | 4.6% ABV | $10.99 64oz / $5.99 32oz –  Grab this refreshing tart beer from our friends over in Stowe (VT) before it's gone.  Draft only.

Stone Corral Raspberry Black Beer | 6.1% ABV | $13.99 64oz / $7.99 32oz – Robust black beer with raspberries- Draft Only, No Bottles/Cans Produced